Blogs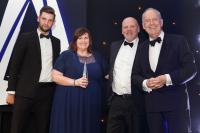 APRIL 2018 - CHAIRS DIARY
The first week in April I was privileged to attend the 25th Anniversary Awards of Cost Sector in London. I can remember when Cost Sector first started as I had recently left the Army and was working in an office in Stone, Staffordshire. We had a call from the new magazine and I was asked "have you heard of Dewberry Boyes?" Of course I hadn't but as they say the rest is history. It was fantastic evening and very well attended from all sectors of the Cost sector industry. So congratulations to Cost Sector on 25 years.
The following Sunday and Monday we had a LACA NSG and Board meeting to chair and attend.
Tuesday that week I went to meet with Darren Northcott from the NASUWT Teachers union. Darren was an absolute please to meet and talk to about who LACA are, what we do etc. but more importantly how we can work together for common aims. He was an ex-Headteacher, as you would expect, and he was very complimentary about his experience of school meals. He confirmed that should LACA need any support in the future around key government decisions that affect us, he was available to assist if he could.
Later that week I attended the HCA (Hospital caterers Association) training event and seminar at Celtic manor. Interesting to listen to MP's debating with the audience around the issues in the world of hospital catering and a lot of similarities around budgets and funding going forward.
The following week I had 5 days in the office, which is a rare event currently. However I did manage to attend the East Midlands committee meeting Thursday pm, which was hosted by our colleagues at Nottinghamshire County Council. I always make the effort to attend these meetings when I can and support the regional chair Jane Faulks.
The last week in April was completed with attending the McCain's Live event in Hackney. This was organised by McCain's and included many LACA members from the London and SE region. It demonstrated the current trend into how millennials search for food, new food taste trends and flavours and suggestions around serving traditional chips with BBQ flavoured foods.
Friday morning I attended the monthly meeting with LACA's political advisors Oakhill along with the Vice Chair Michael Hales.
Some of the actions from this meeting included
Being involved in the upcoming revision of the Childhood Obesity Strategy which is due this summer.
Follow ups on the School Food plan around concerns of the lack of monitoring.
Follow up on the recent Chefs in Schools articles and appearance in the media.
Looking at LACA setting up an Instagram account for members to send in food pictures.
Further discussions around a parliamentary event for NSMW in November this year, to be confirmed hopefully.
Finally looking at invites for MP's to the Main event in July.
Cateys' judging took place on the Friday afternoon at the Dorchester Hotel.
So that was April another busy month.