Blogs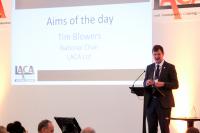 MARCH 2018 - CHAIRS DIARY
There was no Chairs Diary last month as I was away on holiday in South Africa. I won't bore you with the details but we had a fantastic time around Cape Town and on the garden route. Seeing the families living in poverty over there makes you remember how lucky we are in our own county. School children waking up to 20km to get to schools (plus 20km back) and their parents sending them just so they can get something to eat. Let's hope the new president can improve things for the people.
Last week I started off Monday with a trip to London to join colleagues on the PS100 and carry out judging on the Cost Sector Awards. Nice to see many LACA members shortlisted and good luck for the evening of 5th April, I look forward to joining you on a night to celebrate all that is excellent in the public sector industry.
I travelled down to Stratford on the Wednesday evening and joined the judges and Andrew Archer for the evening in preparation of the SCOTY final. My congratulations again to all the finalists but in particular to this year's winner Michael Goulston who works for Hertfordshire Catering Limited (HCL). Thursday evening saw the crowning on this year's winner and hand over from the 2017 champion Tracy Healy. So many thanks to Tracy she has been a superb representative for LACA and I know she enjoyed attending events throughout the year.
Finally on the Friday we held the Spring Seminar, but before that stated at 930 I hosted a LACA Regional Chairs "breakfast" meeting at 8.00 am. We had all the regions attend and it was chance to sit down and talk about the regions and what they are doing and indeed how LACA Board can help. We are planning to hold these as regular meetings with the Regions. So if you have any comments or ideas please pass on to the regional chairs or you can contact me direct via email.
The main event was dominated by the EPI research and I was pleased that members found the details very useful and the plans for the future around UIFSM as we move into 2018.
This month and next continues with a number of meetings with MP's to continue the lobbying around School Meals. I will keep you posted next month on this.
Best wishes Tim