News

LACA's NSMW wins EDUcatering Excellence Award
National School Meals Week (NSMW) sponsored by Kraft Heinz, the annual, week-long promotion of school food organized by LACA, has been recognised with the EDUcatering Excellence Award.
National Chair Tim Blowers said: "Well done to all LACA members who support NSMW to make it the iconic week it is – celebrating our amazing industry, the commitment of staff, the nutritional food we serve to thousands of children each day and the benefit this has on youngsters.
"NSMW was recognised as being an effective method of marketing and communicating school food."
The awards night was held in London on October 10th.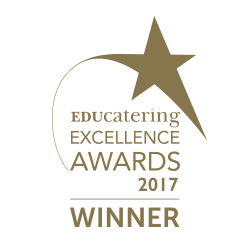 Schools and caterers still wishing to get involved in this year's NSMW, which runs from November 13-17, can get more information by visiting this page on the website: http://laca.co.uk/national-school-meals-week-nsmw-2017 or by calling 01244 399900.
Written by LACA Admin