LACA Autumn National Seminar 2017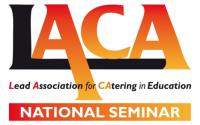 When: Friday 17th November 2017
Where: Chesford Grange Hotel, Kenilworth, Warwickshire
LACA are holding a one day seminar at Chesford Grange on Friday 17th November. The programme will include a session on the possible implications of Brexit on the food and drink sector, the rise in Multi Academy Trusts and what this may mean for school caterers and suppliers to the market and the concluding results of the Secondary School makeover project following the official opening of the school's dining room.  The full programme can be viewed here.
The seminar is taking place on the Friday of National School Meals Week and we expect the 'Fuelled by School Food' marathon runners to end their final day's 26.2 mile run with a victory lap around the seminar room.
Bookings are now being taken for the seminar and there is the opportunity to book accommodation and dinner at the hotel the night prior if required.