LACA National Seminar 2017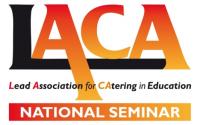 We are pleased to confirm that the next LACA National Seminar will take place on Friday 3rd March at the Stratford Manor Hotel, Warwick.
 
The programme is currently being finalised and will feature an update on the LACA Research Project into UIFSM, the current state of play with the Secondary School chosen for the FCSI makeover programme and a case study session from Lancashire County Council. There will also be an interview with the newly announced LACA School Chef of the Year 2017.
 
Bookings are now being taken for the LACA National Seminar – click on the link below to download the booking form or to make your online booking and confirm your attendance.  You can also book to attend the LACA School Chef of the Year National Final presentation dinner at Stratford Manor Hotel on Thursday 2nd March, plus accommodation if required.
CLICK HERE TO BOOK ONLINE
Or
Download the booking form below.