LACA Spring National Seminar 2018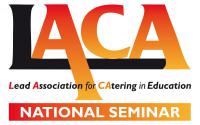 LACA National Seminar 2018
Friday 9th March 2018
Stratford Manor Hotel, Warwickshire
With the LACA / EPI research project into the future of UIFSM now finished, the findings and actions will form the focus of the next LACA National Seminar this March.
Click here to view the full programme, it covers the political and industry outcomes from the research enabling us to start to form the plan of action education caterers need to safeguard the future of UIFSM.
Bookings are now being taken for the seminar with delegate costs for full LACA members frozen at £35 per place, an indication of the importance LACA are putting on the launch of the research results.
Click here to make your online booking, including accommodation on Thursday 8th March and a place at the LACA School Chef of the Year presentation dinner that evening.