National School Meals Week (NSMW) 2018
12th – 16th November 2018
2018 marks the 25th Anniversary of the Lead Association for CAtering in Education (LACA) National School Meals Week (NSMW) and there will be plenty to celebrate during this Silver Jubilee year to make it an anniversary to remember.
National School Meals Week is a firm favourite in many school caterers' promotional calendar and this year there is more than ever for caterers to get involved with.
LACA NSMW 2017 was an outstanding success thanks to so many people across England and Wales joining in with the activities. Here's what's happening this year:-

So popular with school caterers and now in its third year, this activity shows education catering at its best. The camera doesn't lie as the saying goes and we have seen some wonderful examples on what tremendous food is being served on a daily basis in schools right across England and Wales.
For 2018 we want suppliers to get involved also by showing some great recipes and inspiring school caterers by showing what can be done using your ingredients. Why not upload a short video.
Our judging panel this year knows what it takes to win this competition as it includes 2016 winner Tony Mulgrew and last year's winner Emma Williams. They will be joined by our sponsors Kraft Heinz Foodservice Development Chef Lawrence Ager, so make sure you tweet pictures that will impress.
The prize of £500.00 of marketing resources or equipment is going to be hard fought with the entries we have seen so far and this year we have an extra incentive to keep the entries rolling in; a trip to London to enjoy afternoon tea for two at the world famous Ritz Hotel awaits the 2018 winner of #cookeditmyselfie. A tremendous experience and all for taking a quick snap on your smartphone!!
When you share your photos with us, you can also send us your recipes of the dishes snapped for us to share with a wider audience and of course you will always be tagged.
National Roast Dinner Day
Everyone loves a roast dinner and they are not just for Sundays either. As always we will be supporting this terrific event during NSMW and it is a great opportunity for schools to invite members of pupils' families into school, to see just how good today's school meals really are and all for less than the price of a cup of coffee on the high street.
Host a School Chef
Venues in 2017 read like the Michelin Star Guide with some of the most famous restaurants in the country hosting school caterers. The Ritz Hotel London, Rick Stein's Sandbanks Restaurant, the Chester Grosvenor, Alyn Williams at the Westbury in Mayfair, L'Enclume in the Lake District, The Walnut Tree in Abergavenny, are just a few of the fabulous establishments that were happy to take part. The list for 2018 is looking just as impressive and is a school caterer's opportunity to spend a day in the world of haute cuisine working alongside some of the most celebrated chefs in the country. Once again the Craft Guild of Chefs is supporting the event and is encouraging its members to 'Host a School Chef'. Ring NSMW coordinator Louise Hughes on 01244 399900 and give her your details; Louise will do the rest and match you up with a restaurant in your area for a once-in-a-lifetime experience.
NEW for 2018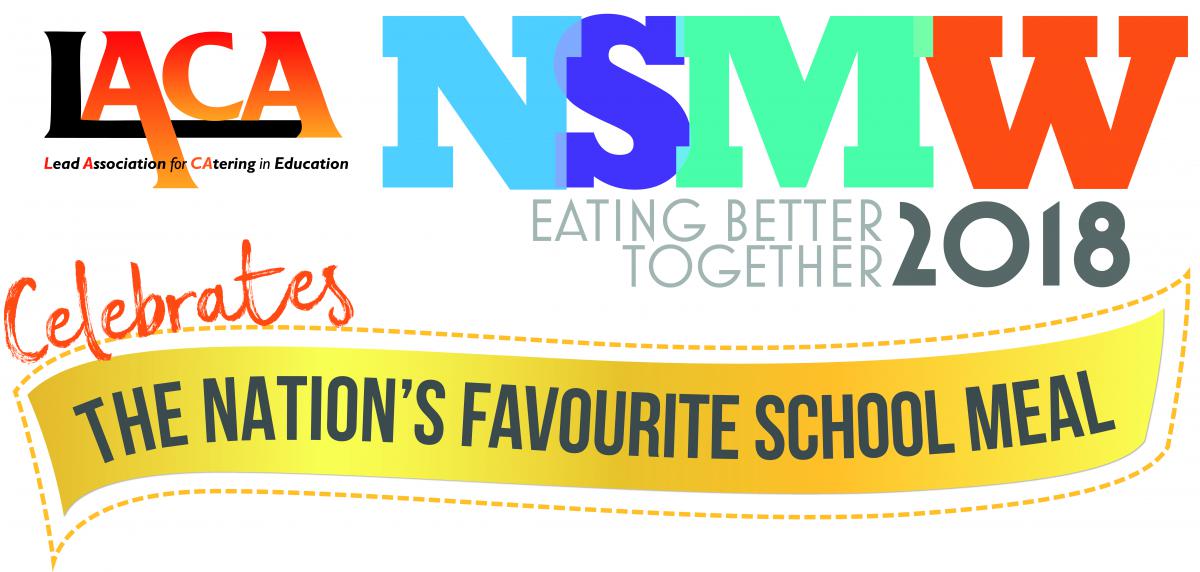 The Nation's Favourite School Meal over the last twenty five years poll really caught the imagination of so many out there, who had fond memories of their school meals.
The poll started with ten main courses and desserts and then was whittled down to the top five in each category for the final round of voting. The top two mains were see-sawing for the top spot, changing position virtually daily until finally on the stroke of midnight on Monday 24th September, the nation decided that curry was their favourite school main course and that for dessert the overwhelming choice was chocolate sponge and custard.
LACA is asking every school across England and Wales to include the nation's favourite two course school meal on their menu as part of the NSMW Silver Jubilee celebrations.
Free resources will be available on the NSMW website http://thegreatschoollunch.co.uk/resources/ to get the whole school involved and we are asking caterers to send in their favourite curry recipe to admin@laca.co.uk which we will share on the NSMW website so others can try it.
We will be giving a 'School Meals Shout Out' to everyone who contributes their favourite recipe.
NEW for 2018 – A cake fit for a (future) King
It is not just NSMW that has something to celebrate this year; during NSMW -14th   November to be exact - His Royal Highness Prince Charles will celebrate his 70th birthday.
To mark the occasion former LACA Chair and cake maker extraordinaire Carrieanne Bishop, will be producing a pièce de résistance, a cake fit for a (future) King.
Carrieanne will collaborate with 2018 LACA SCOTY Regional winners, including the overall winner Michael Goulston, to make different elements of the cake and demonstrate that school caterers are skilled and knowledgeable individuals, talented enough to bake for royalty!! 
NEW for 2018 – The NSMWeekly
Keeping members in touch with all the happenings and sharing interesting facts, The NSMWeekly will post a weekly fact on Twitter and the NSMW Homepage that we trust our followers will find interesting, inspiring and motivational. If you have a fact that you would like to share with us we would love to hear from you. We will be happy to namecheck you on the NSMWeekly post so make sure you put your details on your email; just click on the Contact link on the NSMW Homepage Menu.
NSMW Back on the Road
Following the success of the 2017 Marathon tour, LACA are once again taking NSMW on the road and visiting all ten LACA regions to fully engage with members.
Last year's 'Powered by School Meals' strapline was very much about how school meals 'energised' our customers; however a nutritious school meal at lunchtime 'Powers' so much more.
The five important powered by school meals messages, which we will taking out to each region, are; education, concentration, attainment, energy and nutrition.
We will be engaging with pupils the length and breadth of the country with activities that emphasise the positive effects of a healthy nutritious school meal at lunchtime.
For the Education message we will have a ' Scientist' character demonstrating and educating on fun food facts
Concentration – A buzz wire where the children concentrate on getting to the end of the puzzle trying not to 'BUZZ' the buzzer!
Attainment – A magnetic puzzle where the children select magnetic pieces from a box and make the design up into a picture
Energy – Children will be encouraged to take part in some simple exercise, similar to circuit training where there will be a selection of exercises to do.
Nutrition – A demonstration by a chef from NSMW sponsors Kraft Heinz on choosing the right food to help fuel the school day.
The route is planned out (see map below) and officially launches in the LACA Wales region on Friday 9th November when the NSMW roadshow rolls into Denbighshire. Monday 12th November sees LACA North East region hosting the first stage of the journey through England, starting the proceedings in Middlesbrough and then throughout the rest of the week, zig-zagging down the country to the penultimate leg in the LACA South West region on Thursday 15th November.
The Powered by School Meals roadshow will conclude with a final stop at the LACA Autumn Seminar in the West Midlands region at the Stratford Manor Hotel on Friday 16th when the LACA members will be able to test themselves on the activities for the five key messages and celebrate all that is great about school meals for the NSMW Silver Jubilee.
NSMW returns to Westminster
LACA will make a return to the House of Commons to engage with MP's and Peers as they sample the very best of school meals from a specially designed 25th anniversary menu. The aptly named Jubilee Room will be the setting on Tuesday 20th November when we finally conclude this year's NSMW and show the politicians what took place around the country as we celebrated the very best in school food.
LACA will again take the opportunity to enforce the message of the importance of a hot nourishing meal in the middle of the day to 'Power' our children in all the important areas of their academic and physical development. The importance of UIFSM being ring fenced and if possible extended to all primary pupils are key messages that will be in evidence on the day
Free Resources- LACA will, as always, create a plethora of free marketing resources for you to download from the NSMW website. New resources are regularly added, so keep checking back.
Keeping in touch- We know the important part communications play in the success of NSMW and this year we will be regularly updating you with what's happening and how you can get involved, through newsletters, the trade press, online and at the Main Event. If there is anything specific that you want updating on or you have any suggestions or ideas please get in touch either  by the email link on the NSMW website or by telephone to NSMW HQ on 01244 399900 and one of the team will be happy to help
School Meals Shout Out NSMW is a great platform for school caterers and suppliers to 'Shout Out' about all the great things you do – and there are plenty of ways to do it: -
Via the Web: www.nsmw.org.uk                       
Via email: admin@laca.co.uk                         
On Twitter: @NSMW or #cookeditmyselfie or #schoolmealsshoutout           
On facebook: @schoolmealsweek                                    
On Instagram: @NSMW1
Or contacting the local press yourselves – any help needed, just contact the NSMW team.                                         
As this special year unfolds there may well be additions to the programme, modifications to some of the activities and more details added, so keep visiting the NSMW website and keep up to date with what's happening for YOUR National School Meals Week.