LACA SCHOOL CHEF OF THE YEAR
Tracy Healy wins School Chef of the Year 2017
The 2017 Yorkshire & Humber finalist, has scooped the national title of LACA School Chef of the Year 2017. Tracy was voted Britain's No 1 school chef by a panel of judges at the National Final which took place on March 2nd at Stratford upon Avon College, Warwickshire. The competition is organised annually by LACA (Lead Association for CAtering in Education) and is sponsored by MAGGI® Professional from Nestlé Professional®.  
Tracy's winning dishes were: Main Course: Lamb Kofta with Coconut Rice served with Flatbread and Mint Salad - spiced meatballs served with coconut rice, homemade flatbread & fresh mint salad. Dessert: Rhubarb Fool with Ginger Crunch - creamy rhubarb fool with ginger biscuit crunch. Amongst the ingredients used in her main course were MAGGI® Mash Potato Mix and MAGGI® Coconut Milk Powder. Tracy used Carnation Condensed Milk and Nestlé Shredded Wheat in her dessert.
LACA School Chef of the Year 2017, Tracy Healy, said: "I am so proud to have won the national title. With the skill amongst this year's finalists being so high, I felt it was an achievement in itself to compete with such a talented group of people. All of this just goes to prove what a good job school chefs do, day in, day out, up and down the country to provide tasty, nutritious meals for millions of children.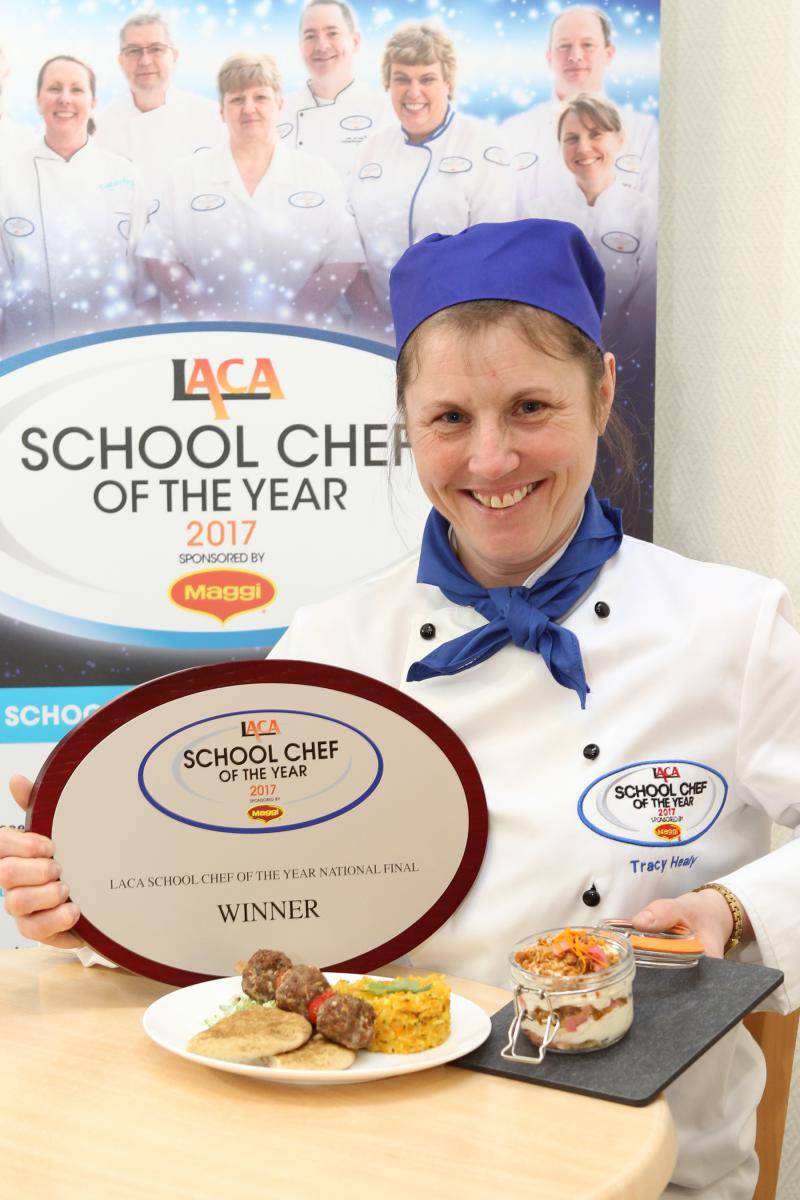 "I am fortunate to have a great team within my organisation, all of whom have backed me and helped me throughout the competition. I hope that this achievement will also serve to reassure parents everywhere about the high quality, balanced and tasty meals that are provided, not only in Ravensthorpe Junior School but across the length and breadth of the country. My employer, Kirklees Council – School Meals Catering Service and my school, colleagues and pupils are all absolutely thrilled and honoured by this success. I am looking forward to an exciting year as the new LACA School Chef of the Year 2017."
Tracy works at Ravensthorpe Junior School, Dewsbury, West Yorkshire where she caters for 280 pupils between 7 – 11 years.
She initially worked for Kirklees Catering Service for three years before taking a short break to run the family business which was a pub restaurant with a small hotel. Tracy re-joined Kirklees Catering Service as a Catering Assistant and then she took on the role as Cook at Crowlees Infant & Junior School. Over the five years she held this post, Tracy developed the necessary skills to be in a position to run her own kitchen. She has been Catering Supervisor at Ravensthorpe Junior School for the past six years.
Healy's enjoyment of cooking and baking has led her into competing in the LACA Finishing Touches Competition. Over the last few years, she has won two Gold's and one Best in Class for her Cupcakes, two Silver's and one Bronze for her Tray Bakes and two Gold's for her Biscuits.
Sally Shadrack, LACA National Chair, said: "My congratulations go to Tracy Healy. Her success in taking the national title is a major achievement given the exceptionally high standard of culinary skills of all of this year's finalists. LACA School Chef of the Year is a fantastic way of showing why every school should be striving for a high quality school meals service. School meals play a pivotal role in laying the foundations for children's future eating habits and their long term health. 
"Not only do our front line chefs prepare tasty and imaginative dishes to tempt discerning taste buds but also nutritious meals that can make a major contribution towards altering eating habits, improving diets and decreasing obesity levels. Following a balanced diet and eating well can help our children achieve more both academically and physically. All of the contestants who have taken part this year should be inspirational role models for the food and beverage service in every school nationwide."
The 2017 National School Chef of the Year Finalists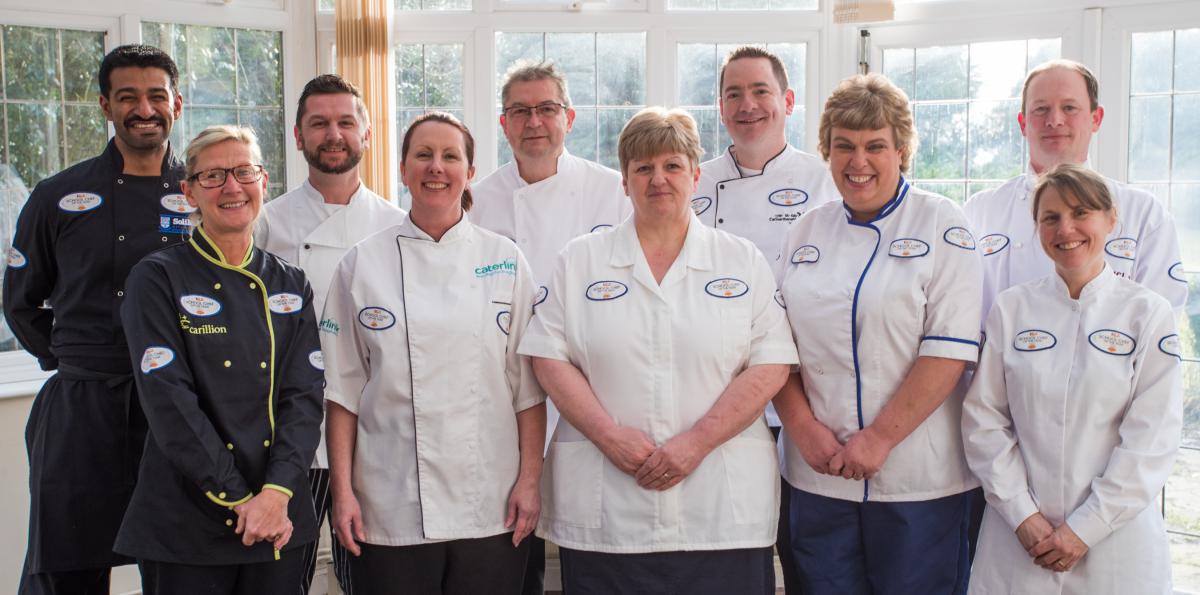 The winner of the Highly Commended Main Course prize was Michael Goulston from Peartree Spring Primary School, Stevenage, Hertfordshire for his dish of Hertfordshire Chicken and Ham Pot Pie - A firm family favourite, with no soggy bottoms, mustard mash and seasonal vegetables.
The winner of the Highly Commended Dessert prize was Jose Davies Kochakkadan from Marston Green Infants Academy, Marston Green, Birmingham for his dish of Mango Frangipane with Mango Lassie and Salsa – a modern twist in frangipane made from Maggi Mash Potato Mix flavoured with mango yoghurt.
At all stages of the competition, each contestant has a maximum of £1.30 to spend and just one and a half hours to prepare their dishes. They are required to produce a healthy balanced two-course meal comprising of a main course and dessert that would appeal to eleven year olds in school.  The meals of all competitors must comply with the School Food Standards and take into account the Eat Well Guide 2016. The judges also want to see evidence of use of locally sourced ingredients and the use of sustainable products.
Chair of the Judging Panel at the 2017 National Final was Justin Clarke, Food Development Chef for MAGGI® at Nestlé Professional®. Also on the Judging Panel was a professional chef judge (Christopher Basten, Immediate Past Chair, Craft Guild of Chefs), a local authority catering professional (Jacqui Webb, LACA), a nutritionist (Beth Hooper, Nutrition Manager, Nestlé Professional®), the LACA School Chef of the Year 2016, Katherine Breckon from North Yorkshire and two pupils from a Stratford upon Avon school (Gracie Foley and Sam Seaborn, Alveston C of E Primary School).
The 10 LACA School Chef of the Year 2017 National Finalists came from across Britain and all work at the frontline of school catering, with first-hand experience of the challenges of feeding both children and young people. Demonstrating their cooking skills as well as how healthy and creative school meals are, is important to all the School Chefs. This is why they feel taking part in the LACA School Chef of the Year is such a great opportunity to show just how much school meals have changed for the better.
Jason Rodriques, Category and Commercial Manager – Savoury Food at Nestlé Professional®, added his congratulations to the new LACA School Chef of the Year 2017: "From our own Nestlé Professional Toque d'Or® competition for catering colleges and apprentices to LACA School Chef of the Year, we're proud to celebrate talented chefs. Congratulations to all the school chefs who participated this year and for their dedication to providing our nation's children with nutritious, tasty meals every day. I've been very impressed by this year's contestants and extend my warm congratulations to Tracy Healy.  I wish her the very best for the future."
Watch all the 2017 action below.
School Chef of the Year 2017 regional results 
East Midlands
East of England
London
North East & Scotland
North West
South East
South West
Wales
West Midlands
Yorkshire & Humberside
A reminder of the 2017 rules are available to download below. If you have any questions, please call the competition organisers on 0845 108 5504.
Click here to download the fully revised Rules and Entry Criteria for the 2017 competition
 
Click here to download the 2017 list of Nestle Ingredients
For more information:
T: 0845 108 5504
E: laca@dewberryredpoint.co.uk