14 Jun 2022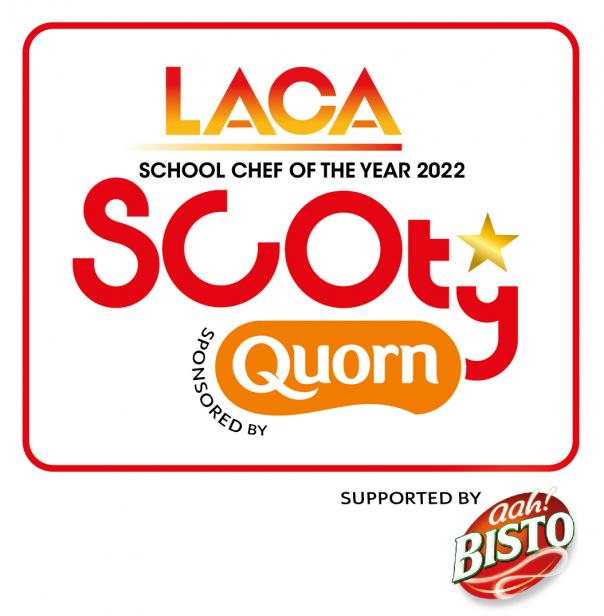 The LACA School Food Chef of the Year national final will take place on Wednesday 6th and Thursday 7th July 2022 alongside the LACA Main Event at the Hilton Birmingham Metropole.
The 2022 winner will be revealed on the evening of Thursday 7th July at the LACA Awards for Excellence dinner.
Register for free entry to the School Food Show to watch the finalists battle it out live, on 6th and 7th July.
Region

Organisation

Contestant Name
& School

Grab & Go Item

Main Course

Dessert

East of England

Vertas Group Ltd

Jackie Sweeney

Hewett Academy

Sweet chilli glazed spiral dog

Vegan Quorn sausage with sweet chilli glaze enrobed with a potato spiral

Paprika Quorn Chicken with timbale of orzo

Marinated paprika Quorn fillet, nestled on a bed of sauteed vegetables with a timbale of infused orzo and vegetable ribbons

Roasted pineapple with coconut crumbled rice pudding

Roasted pineapple pieces with Ambrosia Rice and coconut crumble

London

Chartwells Lewisham

Raheem Morgan

Torridon Primary School

Loaded Quorn corn savoury waffle

Spicy avocado, tomato and crème fraiche topped savoury waffle inspired by a traditional Jamaican corn fritter

Caribbean Curried Quorn, confetti rice, steamed greens, raw slaw, coconut bread and mango salsa

A slow cooked flavour packed curry with a selection fresh and colorful side dishes

Sticky ginger and date cake, coconut rice pudding foam and spiced apple compote

A rich and moist spiced cake with rice pudding like you've never tasted before

London - wildcard entry

Radish All Good

Terry  Howard

Monega Primary School

Layered beef salad

A salad with different colourful layers topped with  Quorn beef pieces in a ranch dressing

Quorn Parmigiana with a twist

Baked Quorn fillet topped with smoky ham and cheese with a potato rosti and  tomato sauce

Lemon drizzle cake with a banana mousse cone

A very classic lemon drizzle cake with a fun delicious banana cone

North East & Scotland

Stockton Borough Council

Victoria Clair

Crooksbarn Primary

Meaty Quorn, Goats Cheese and Beetroot Roll

A meaty vegetarian roll containing Goats cheese and beetroot

Herby Quorn and Spinach Tortellini

Tortellini stuffed with Quorn, herbs and vegetables and served with medley of vegetables and  an Arribiata sauce

Rhubarb & Raspberry Crumble with Custard

Tangy rhubarb and raspberries, covered in a sweet crumble topping and served with custard sauce

North West

Lancashire County Council

Rose Simpson

Morecambe Bay
Community Primary School

Vegan Hash Wrap

Best of British vegan sausages, vegetables and spices in a wholemeal wrap

Quorn beef pieces and vegetable teriyaki noodles

Quorn beef pieces and vegetable teriyaki with homemade noodles

Trifle Twist

Raspberry jelly set with fruits, a layer of custard and topped with a ginger soil

South East

Chartwells IOW

Wendy Lohse

Shalfleet CofE Primary School

Quick Quorn Cakes

Lightly fried Quorn "fishless" cakes served with cucumber relish and a spicy Mayonnaise.

Balinese Quorn Satay with yellow rice and green beans

Minced Quorn Satay with lemongrass and turmeric rice, coconut green beans and fresh sambal

Chewy Gooey Ginger Ice Cream Sandwiches

Chewy ginger cookies with mango custard ice cream and fresh fruit and lime gels

South East - wildcard entry

Impact Food Group - Bilingual Primary School

Arkadiusz  Aoun Kosiacki

Bilingual Primary School

Ham & cheese shortcrust pinwheel

Rolled pastry with Smokey ham, feta, tomato and spinach

Baked sausage croquette

Crispy Quorn sausage with basil mash potato, roasted tomato sauce , sauté vegetables and parmesan chip

Chocolate & banana mousse

Chocolate and banana mousse with fresh strawberries and tuile biscuit

South West

Crispin Academy

Tasha Watts

Crispin Academy

Spicy wrap

Vegetarian curry wrap

Thai Style Quorn fish cakes with pineapple fried rice

Fishless fish cakes made with Quorn served with pineapple fried rice and a sweet chilli sauce

Banoffee pudding

Banana & butterscotch pudding

Wales

Caerphilly CBC - Rhiw Syr Dafydd Primary School

Clair Edwards

Rhiw Syr Dafydd primary school

Sticky Quorn Sausage skewers

Roasted Quorn sausage and vegetable skewers glazed in a sweet finger licking  sticky sauce

Loaded Chapati bread served with garlic and coriander cauliflower rice

Tomato, spiced quorn pieces served in a folded chapati bread served alongside a garlic and coriander cauliflower rice.

Delicious strawberry and lime delight

Light and fluffy mousse served on  a delicious lime biscuit base, topped with fresh strawberries

West Midlands

Academy, part of Atalian Servest

Lee Taylor

John Gulson Primary School

Aloo Chaat Masala wit cooked roti chips

Indian street classic served with a cool salad and yoghurt mint sauce

Keema cottage pie with chana masala, Indian picked slaw and sour cream & mint dip

Indian vegetable staple with a clean slaw and sour cream dip

Indian spiced apple crumble with mango ice cream and fruit coulis

Spiced Asian take on a classic with a twist in the ice cream

Yorkshire and Humberside

Mellors Catering Services

Tom Armstrong

Shelley College

Tandoori Quorn & Onion Bhaji

Tandoori Quorn and onion bhaji with minted yoghurt and coriander oil

Indian spiced Quorn Cottage Pie

Indian spiced Quorn cottage pie with crushed Bombay potatoes, butter sauce and greens

Coconut milk panna cotta

Coconut milk panna cotta with mango puree and freeze dried raspberries

Yorkshire and Humberside - wildcard entry

Queen Ethelburga's

James Brown

Queen Ethelburga's College

You've got to roll with it

Crispy Quorn roll with soy dipping sauce

Katskewer Curry

Crispy Quorn and cheese skewer, rice, katsu curry sauce and crisp salad

Bananas and custard

Caramelised vanilla custard with banana slices and butter shortbread

Register for free entry to the School Food Show to watch the finalists battle it out live, on 6th and 7th July.