Academics tackle Halloween food waste using pumpkin ice cream recipe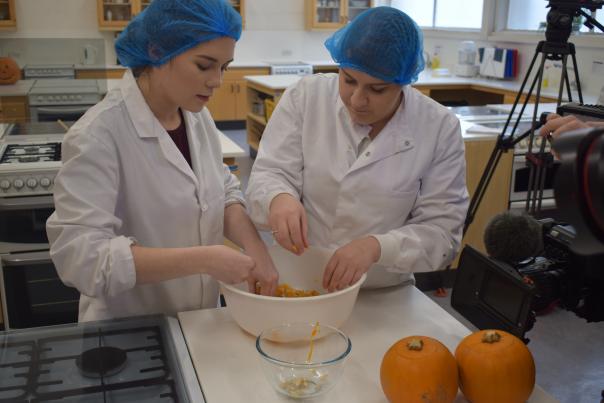 29 Oct 2019
Academics at Abertay University in Dundee are tackling Halloween food waste by releasing a pumpkin ice cream recipe that uses the pulp seeds.

Every Halloween people in the UK throw away eight million pumpkins according to the #PumpkinRescue campaign. It is estimated that 60% of the public throw away their pumpkin after they have carved it.
It is hoped that consumers or caterers will create their own zero-waste pumpkin ice cream which has around 40% less sugar than regular ice cream.
Lecturer Dr Jon Wilkin, said: "This type of food innovation is an important strand of our research at Abertay, where we have a strong focus on finding novel ways to repurpose and reuse waste items.
"We've used every edible part of the pumpkin to create this ice cream, including the seeds, which we've roasted and used as a chopped nut substitute. While this is perhaps more on the unusual side there are plenty of ways to make the most out of your Halloween pumpkin, for example soup or risotto.
 "We're looking to highlight that there are simple and sometimes creative ways to reduce food waste in general."
Zero-waste pumpkin ice cream ingredients (makes ten servings):
600 g Pumpkin Pulp
600 ml Double cream
500 ml Whole Milk
250 g Erythritol (replace with 220 g Castor Sugar)
6 egg yolks 
1 tsp Mixed spice
1 tsp Cinnamon
1 tsp vanilla essence
1 tsp turmeric
How to make zero-waste pumpkin ice cream:
Heat the pulp in a saucepan whilst stirring, wait until it is all soft and squidgy
Once soft pass through a sieve (this is to remove any big lumps) discard the left over pulp
Add the cream, milk, egg yolks and Erythritol.
Add the mixed spices, cinnamon, vanilla and turmeric
Slowly heat (try not to burn the mixture)
Heat up until over 75°C, if you do not have thermometer then heat until almost boiling
Leave to cool
Once cool add to ice cream maker – takes approximately 40-50 minutes
If you do not have an ice cream maker we have two methods – the freezer and stir method or the in a bag and shake method
In the freezer and stir – add ice cream to a basin and add to the freezer – after 40 minutes remove and vigorously stir, add back to the freezer and after 30 minutes remove and vigorously stir. Continue until your ice cream is frozen (2-3 hours).
In a bag and shake method, Add ice cream to a freezer bag (double bag it), then seal.  Add ice cream bag to a basin of ice cubes with salt (approximately every 40 g of ice to 1 tbsp of salt). The salt lowers the freezing point of the ice and can quickly freeze your ice cream, shake vigorously until your ice cream is frozen.
The more your shake or stir the smoother your ice cream.