Becky Crossley wins Yorks & Humberside regional leg of SCOTY 2021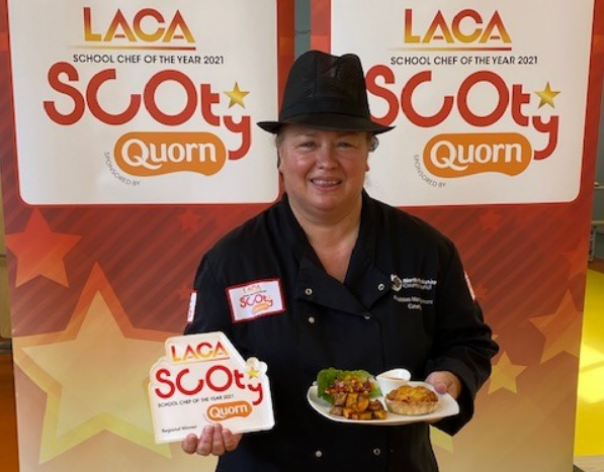 19 Jul 2021
The hunt for LACA School Chef of the Year 2021 has moved a step closer to filling the final line-up with the triumph by Becky Crossley, who won the Yorkshire & Humberside heat that took place on Friday, July 16th at Westfield Primary School in York.
Following the first round of paper judging entries in May, three school chefs from Yorkshire & Humberside successfully qualified to go through to the regional final.
Becky, who works for North Yorkshire County Caterers at York High School, cooked Minster pizza, Shambles salad, Bootham baked potatoes with a Micklegate mojo dip, using Quorn Pieces followed by Knavesmire Forest Fool, a fruits of the forest jelly layered with lemon fool with a biscuit crumb base.
This was the eighth of nine regional finals taking place to earn the chance to compete in the final, which this year takes place at LACA's Main Event from October 12-13 in Birmingham.
In the final competitors have 75 minutes to prepare, cook and present four portions each of a two course imaginative meal suitable for serving en masse to 11-year-olds in primary or secondary schools.
The meal must comply with School Food Standards and take into account the East Well Guide 2016. The food cost for one main course and dessert must not exceed £1.40 and must include Quorn as the protein element of the main course and a dessert based on 50% fruit content.
In addition to the kudos of winning the national title, the 2021 champion will receive a £1000 cash prize and the LACA 2021 School Chef of the Year trophy.
They will also be awarded a work experience trip and an invitation to a calendar of high profile catering industry engagements. The national second and third place winners will receive cash prizes of £500 and £300 respectively.
Organised by the LACA – The School Food People - and sponsored by Quorn Professionals, School Chef of the Year is the education catering sector's premier culinary skills competition.
School caterers and school meal providers can register for free entry to the LACA School Food Show in October to watch the live final.