BNF to educate millions of schoolchildren on healthy & sustainable diets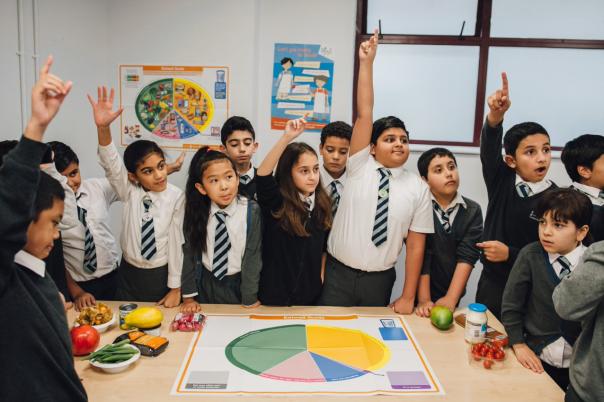 20 Apr 2022
The British Nutrition Foundation (BNF) is preparing to raise awareness about healthy and sustainable diets during Healthy Eating Week, which is taking place from 13-17 June 2022.
The tenth Healthy Eating Week will focus on how to 'eat well for you and the planet'. It aims to empower teachers, school staff and students to achieve a diet that is both healthy and sustainable.
For the last decade, Healthy Eating Week has been helping and 'inspiring' people to lead healthier lives by providing nurseries, schools, universities, workplaces, health centres, communities and individuals with a wide range of free activities and resources, based on five daily challenges. 
Sara Stanner, science director at BNF, said: "School children today are more aware of the need to protect the environment than those who were in school ten years ago when we held the first Healthy Eating Week. 
"As we look to the future, ensuring our diets are not just healthy for us, but for the planet, is critical – food production currently contributes to around 37% of greenhouse gases. While the environmental impact of different foods can vary widely, there are some general principles we can all follow to aim for a healthier and more sustainable diet.
"Healthy Eating Week provides an opportunity to introduce healthy habits and, by getting involved, teachers and school leaders can help us to build a healthier future generation that are also aware of the health of the planet."
When Healthy Eating Week launched in 2013, 67% of men and 57% of women in England were classified as overweight or obese. This number is now 68% and 60% respectively and obesity levels among children are also rising.
David Harding, head teacher at Hinckley Parks Primary School, commented: "We are always keen to promote healthy food choices and healthy lifestyles. The British Nutrition Foundation's Healthy Eating Week allows us to do this perfectly and enables us to build on the work which takes place throughout the year. The children learn about different food groups and what constitutes a healthy diet and are provided with opportunities to prepare, cook and eat healthy dishes."
The Healthy Eating Week 2022 challenges are:
Focus on fibre – for meals and snacks

Get at least five a day – put plenty on your plate

Vary your protein – be more creative

Stay hydrated – fill up from the tap

Reduce food waste – know your portions
To find out more about Healthy Eating Week 2022 and to register, please visit: https://www.nutrition.org.uk/healthy-eating-week/.