Brakes 'lights up' Harlow with new solar panel system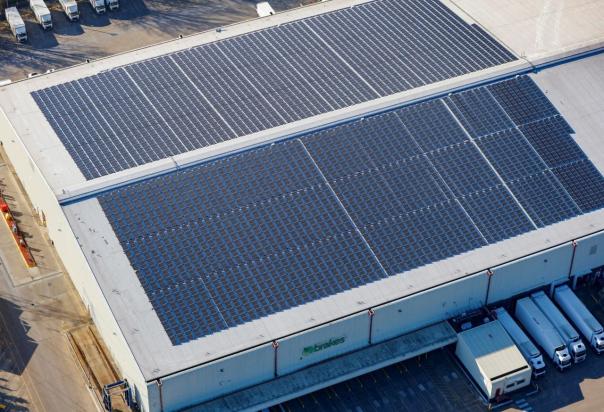 28 Jul 2022
Brakes, in partnership with landlord Tritax Big Box REIT plc, has completed the installation of a new solar panel array at its Harlow site providing the company with its own source of renewable energy.
The new solar panel system will provide more than 15% of the site's energy requirement and will save the equivalent of more than 200 tonnes of CO2 every year. The Harlow project is the first in a phased programme of renewable energy that will see the company generate renewable energy at sites across the UK.
Peter Owen, Brakes environment director, said: "Over the past few years, Brakes has demonstrated its willingness to take industry-leading positions on sustainability and our renewable energy programme is the latest example.
"We're pleased to be working with suppliers and customers who share our ambition to cut emissions and tackle climate change, and every gram of carbon saved throughout the supply chain supports their targets to decarbonise. The roofs of our buildings provide a great opportunity to generate clean, renewable power, contributing towards our science-based climate targets.
"Since 2010, we've cut scope 1 and 2 emissions across Brakes by almost a third. The Harlow installation, and those that follow, will help both us and our customers to cut our carbon footprint and contribute to tackling climate change."
It is the latest step towards the science-based targets set out by Sysco, to cut carbon emissions by 27.5% between 2019-2030 and to move to 100% renewable electricity.
Petrina Austin, asset manager at Tritax, commented: "It's been a pleasure to work with Brakes on this project. Our combined ambition to progress ESG projects has enabled proactive collaboration and we're really pleased to have procured this installation. We look forward to continuing these types of initiatives with Brakes in the future."