BWCA releases back-to-school hydration guide for children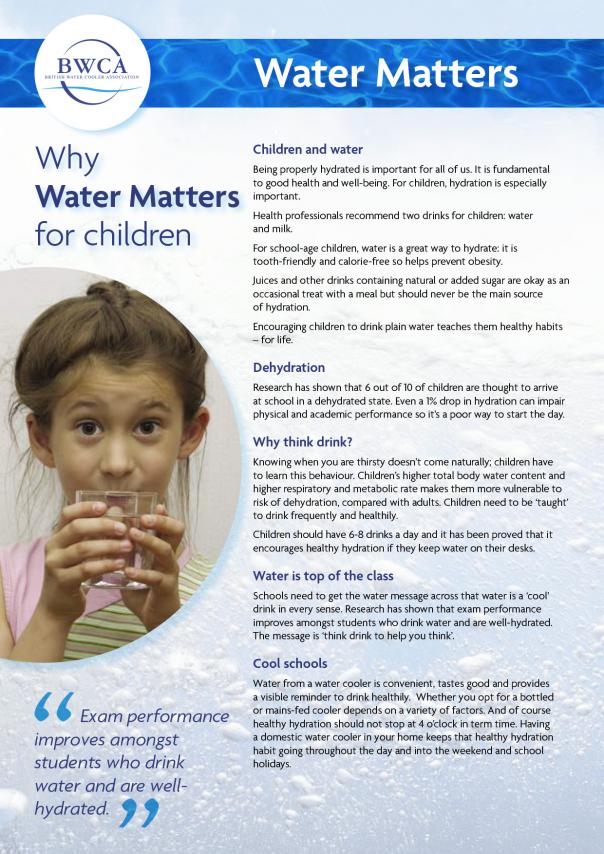 30 Aug 2017
Teaching children the importance of staying well hydrated, the British Water Cooler Association (BWCA) has launched a 'Why Water Matters' fact sheet, outlining the mental and physical benefits of drinking water.
Promoting the tag line 'think drink to help you think,' the free sheet hopes to remind schools of the benefits of water coolers, stating:
"Being well-hydrated helps children achieve their optimum performance both mentally and physically, and water is one of the healthiest means of achieving good hydration levels."
"For school-age children, water is a great way to hydrate: it is tooth-friendly and calorie-free so helps prevent obesity."
"Juices and other drinks containing natural or added sugar are okay as an occasional treat with a meal, but should never be the main source
of hydration."
"Encouraging children to drink plain water teaches them healthy habits – for life."
A 'healthy hydration' chart also allows children to judge whether they are well-hydrated from the colour of their urine.
Phillipa Atkinson-Clow, BWCA general manager, said: "Water in school is cool. It's also a sustainable choice; if using bottled water coolers, the bottles are collected, cleansed and reused many time over whilst if you have plumbed-in coolers, these take water from the mains system.
"Reduced levels of concentration can lead to mistakes, poor attention span in the classroom, headaches, irritability, lethargy, or just an overall lack of alertness as well as longer term and more serious health problems.

"It's not only the pupils and students that matter. For those working in schools, whether in the classroom, offices, school kitchens or elsewhere, healthy hydration is a must both for personal well-being and professional performance."
Reminding both schools and pupils of the benefits that water coolers offer, the 'Why Water Matters for Children' is just one of six new hydration guides published by the association.
To view the guide online, visit: http://bwca.org.uk/wp-content/uploads/2017/08/BWCA_hydration_fact_sheet_children_WEB.pdf.