Calderdale school receives silver Food for Life accreditation despite flooding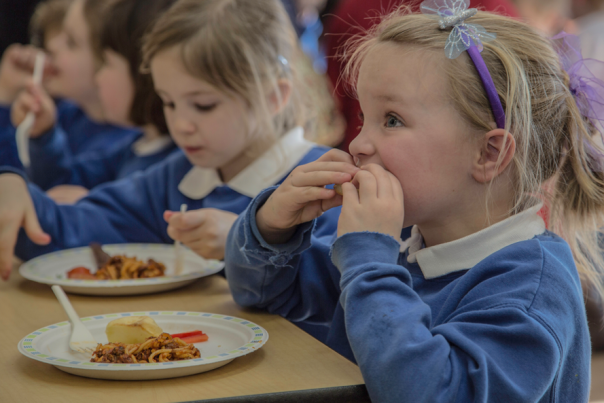 25 Feb 2020
Riverside Junior School's catering team achieved a silver Food for Life Served Here accreditation despite flooding that closed their kitchen for nearly six months.
They are the first school caterer in Calderdale to be awarded a silver accreditation. The Food for Life Serve Here (FFLSH) accreditation highlights that caterers are serving food that is local, fresh and school compliant.
In 2016 Riverside Junior School was flooded, preventing caterers from using the kitchen. Catering manager Cheryl Jefferys and her team forged a working relationship with a nearby pub to keep producing school meals.
Jefferys said: "Achieving the Food for Life accreditation gives me and the team great job satisfaction knowing the children are fed well from quality ingredients. It's been hard work and tricky at times gathering all the evidence so we can say all our ingredients have been certified from source. Thanks to all our local suppliers and schools who value what we do – it's their success too."
Riverside's catering team prepare and send out 360 meals a day to five other local schools including Colden, Heptonstall, Stubbins, Central Street and Hebden Royd.
David Howes, acting headteacher at Riverside Junior School, added: "Cheryl and her team have gone from strength to strength over the years at Riverside and it's a fitting reward that their hard work, team spirit and endeavour has been recognised with the Silver accreditation! […] I can't thank them enough.
"Simply put, the team care about what the children eat, whether that be a particular dietary requirement or ethical choice, all they want are full stomachs and empty plates. They enjoy what they do, and that warmth shines through the food."
Riverside Junior School became the first school in the area to launch a daily vegan menu. 
Speaking at the recent Food for Life National Conference, Jo Lewis, policy and strategy director at the Soil Association, commented: "It is clear that food sits at the heart of the inter-connected crises of climate, nature and health."