Cambridge bakers win Compass and NESCAFÉ Original Showstopper Challenge for Macmillan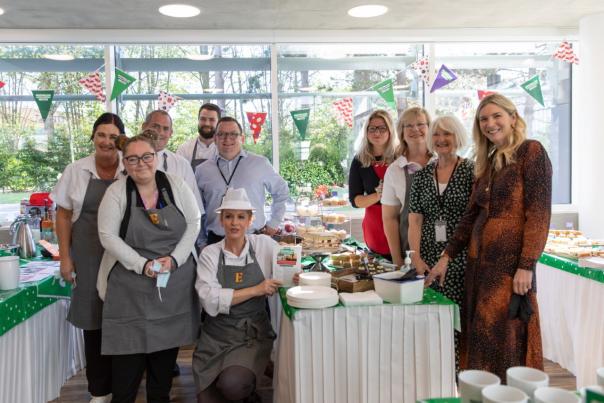 30 Nov 2021
The Eurest catering team at Cambridge Consultants has won a competition for Macmillan Cancer Support, organised by NESCAFÉ Original, within Nestlé Professional.
NESCAFÉ Original is an official sponsor of Macmillan Cancer Support's Coffee Morning and invited all Compass sites to participate, which includes leading workplace caterer Eurest.
Cambridge Consultants won the Ultimate Macmillan Coffee Morning hosted by actress and Celebrity MasterChef winner Lisa Faulkner and Nestlé Professional, raising £1,417 for the charity as a result.
Members of the winning team, led by Sally West, have all been affected by cancer and impressed judges with their Victoria sponge. The cake was decorated with a bell, symbolising the tradition of ringing a bell to mark the milestone of ending cancer treatment.
Sally said: "The Macmillan Coffee Morning really brought us together as a team after being split up by Covid. Seeing all our customers back in the dining room, having coffee and cake was really special."
Lisa commented: "I feel honoured to have been asked to be a part of today's activities, to be a part of helping people, inspiring people and raising money. I couldn't believe the winning cake, I thought it was beautiful and what an inspiring story behind it."
Nestlé Professional, Nestlé's food service division, donated £1 to Macmillan for every purchase of a 1kg, 750g and 500g Decaf NESCAFÉ Original tin from the Nestlé Professional range, raising £45,000 and boosting the £250,000 donation already made by NESCAFÉ Original, bringing the total to £295,000.
The total amount donated by NESCAFÉ Original this year will go towards offering vital support and could fund over 11,000 hours of Macmillan nurses.
Cecilia Farr, NESCAFÉ brand manager in Nestlé Professional, said: "We're delighted to support Macmillan – the work they do is inspiring and it's an honour to be involved, helping to promote and support their Coffee Mornings in the food service industry."
Alison Richardson, customer experience manager for Compass Group Business and Industry, which includes Eurest, added: "It's been amazing for Eurest to be part of the NESCAFÉ Original Showstopper campaign, Macmillan is such a great charity to raise money for."
You can watch a video about the winning coffee morning here.