The caterers feeding schoolchildren in Malawi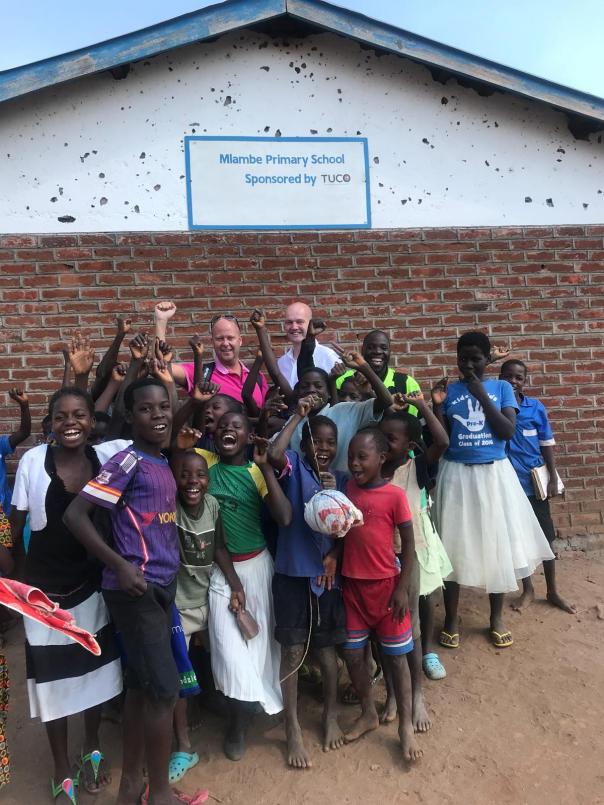 16 Oct 2018
In the UK, school meals are specially formulated to provide a nutritious and filling meal to every child who has one, unfortunately that is not the case globally.
Mary's meals, however, has been working since 2002 to provide one good meal to some of the world's poorest children every school day. On average, it does this for just £13.90 per year, per child.
It has grown from serving 200 meals to children in Malawi, to more than 1.2m in 15 countries worldwide, including Haiti, Thailand, India and China.
The University Caterers Organisation (TUCO) has partnered with Mary's Meals until 2020, fundraising for the charity, and has sponsored two schools to ensure it can provide a meal every school day to its children until 2020.
Each day, the children are given a nutrient-filled cup of porridge, but, because the schools are remote, ingredient deliveries are made monthly. All cooks are volunteers and take it in turns to contribute their time to the scheme. A chart is drawn up to record the consistency of the porridge distributed, to ensure the output and quality is correct, and that nothing goes to waste.
To discover how the partnership and donations have affected the children, Matthew White and Mike Haslin, TUCO Chairman and CEO respectively, travelled to Malawi and visited four schools, including the two it sponsors.
White said: "To experience the sheer volume of children, all looking so happy and content was a delight to see. We are pleased to see the money we have raised directly means children in Malawi are able to have a meal in school, full of the nutrients they need.
"This scheme is a completely life changing. What is great to see is how it helps break the poverty cycle. Children are going on to achieve better grades. By encouraging students to be educated through this scheme, Malawi is starting to resource itself in terms of the professionals that it needs."
Before Mary's Meals started working in the Malawi schools, there was no meal offering in place. While speaking to the local people, one gentleman said: "This is a great thing you are doing. The children are happy, they are nourished. This is good!"
During TUCO's annual conference in July, it presented a cheque of £18,140 to Mary's Meals, of which £13,9000 was raised from the TUCO team climbing the UK's largest mountain, Ben Nevis and by attendees at the conference itself.
The money has gone on to feed 1,305 school children who suffer from the effects of extreme poverty for a whole school year.
Mike Haslin, CEO of TUCO said: "It was great to see the importance placed on the integrity of the food. The staff were honest, and keen to make sure they upheld Mary's Meals values.
The teachers always ensued the children would eat first. If there was any left over, then the teachers and the cooks could have some, but only then. It really is a remarkable scheme they are operating."