Dawn Twemlow rises to the top in Big School Bake Off win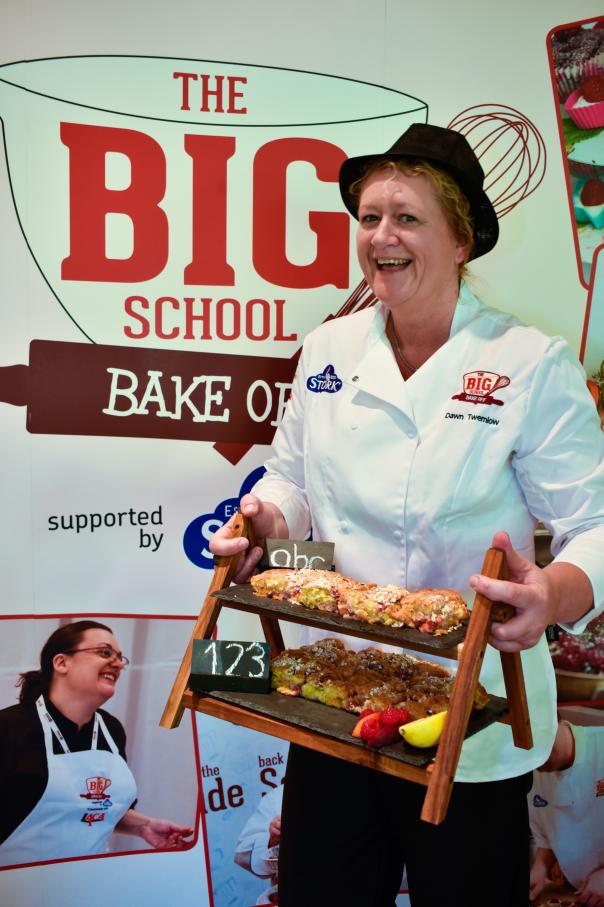 21 Jul 2017
Dawn Twemlow, head cook at Intake Primary School, Sheffield, lifted the 2017 Big School Bake Off trophy at the LACA Main Event on 6 July.
The final took place in front of a live audience at Birmingham NEC and saw Twemlow beat of the competition of eight other school cooks to take home the trophy.
"After missing out on a finalist place in 2016, I was determined to make it this year. But I never thought I'd win. I'm so happy. And the kids are thrilled too. They've been behind me the whole way," said Twemlow.
Finalists at the Unilever-sponsored event had 90 minutes to bake their own desert recipe which had to contain at least 50% fruit to align with the School Food Standards in England for desserts served at least twice a week.
A judging panel, which included chief executive of the Children's Food Trust Linda Cregan, LACA representative Sylvie Babout and UFS executive chef Alex Hall, was looking for taste, creativity, visual appeal and school menu appropriateness in the desserts.
Hall said: "This competition gets better and better every year. It was an extremely close-run final and a brilliant showing of the talent in school kitchens the country over. Massive congratulations to Dawn."
In addition to the trophy, Twemlow was awarded a total of £600 in Love2Shop vouchers and a Let's Get Cooking extravaganza for her school.
This year's Big School Bake Off was the fourth edition of the competition, which was won last year by Sarah Levenson, catering manager at Lordsgate Township CofE Primary School.
List of 2017 BSBO finalists & schools:

·        Tara Reeves, Capel St Mary CofE Primary School

·        Kamila Kosla, Stradbroke High School

·        Daren Offer, The John Roan School

·        Karen Talbot, Hartburn Primary School

·        Allyson Norris, King George V College

·        Clare Harris, St Leonard's Primary School

·        Karen Cuthbertson, The Mary Erskine School

·        Christine Parr, Warmsworth Primary School

·        Dawn Twemlow, Intake Primary School