East & West Midlands regional SCOTY winners announced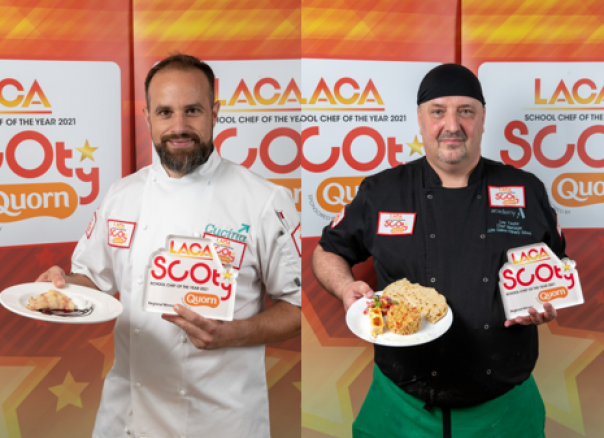 07 Jul 2021
The hunt for the LACA School Chef of the Year 2021 is underway with the competition having reached the regional finals stage.
The winner of the East Midlands regional final was Mathew Bennett of Sponne School, representing Impact Food Group. He cooked tandoori Quorn fillet with cauliflower couscous, bhaji bonbons and flatbread using Quorn fillet followed by cherry pancake samosa with coconut quenelles, oven baked pancakes with cherries, coconut cream and chocolate syrup.
Lee Taylor of John Gulson Primary school representing Academy, an Atalian Servest Company was crowned the winner of the West Midlands regional final. He created Caribbean Quorn pilau with pineapple salsa, roti, macaroni pie and yoghurt mint sauce using Quorn pieces with a dessert of Caribbean chocolate orange sponge with fresh fruit salad and mango puree.
The first place winners from the regional finals will advance to the national final which is scheduled to take place on 12-13 October in Birmingham. Competitors have 75 minutes to prepare, cook and present four portions each of a two course imaginative meal suitable for serving en masse to 11-year-olds in primary or secondary schools.
The next East of England regional final will take place today (7 July) at Cambridge Regional College.
School caterers and school meal providers can register for free entry to the LACA School Food Show in October to watch the live final.