Eat Culture, Nottingham Catering celebrates NSMW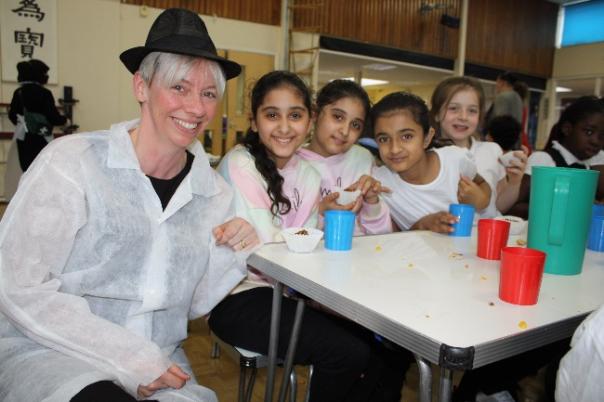 18 Nov 2021
Celebrating all that is great about school meals with a different promotion each day and VIP guest invitations Eat Culture, Nottingham Catering focused on fun and socialising at school lunch time for this year's National School Meals Week (NSMW).
Portfolio holder for finance & resources councillor Sam Webster and the council's head of community partnerships Mary Lester rolled up their sleeves to help prepare and serve school meals at local schools.
Visiting Rufford Primary Councillor Webster made some pastry for minced turkey pies and helped serve the school meals.
He said: "I'm impressed by the variety of healthy options available, including a salad bar that went down a treat with the children. They are a dedicated and hard-working catering team giving a good service. It's also great to see so many teachers eating the school meals and sitting down to eat with the children."
The pupils, staff and catering team at Mellers Primary School also had a special guest on Friday - Mary Lester. Getting involved with setting up the dining room and serving the school meal as part of the team, Mary explained: "I really enjoyed working alongside this passionate and fast-paced, super organised team.  
"Seeing first-hand what they have been doing to reduce single-use plastics in the kitchen and how they create healthy meals from scratch, which the children loved, was great to see."