Edward Timpson CBE MP Enjoys a school meal at St Joseph's Primary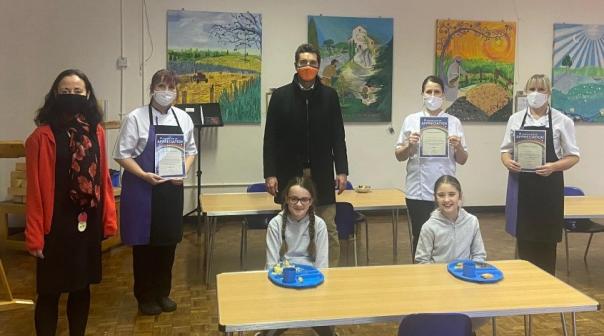 07 Dec 2020
Eddisbury MP and former Minister of State for Children and Families, Edward Timpson CBE, visited his local school, St Joseph's Primary, alongside LACA—The School Food People, to thank the catering team at Edsential who have worked so hard to feed children throughout the COVID-19 Pandemic.
Edsential is a Community Interest Company owned by Cheshire West, Chester Council and Wirral Council to provide services to the Education sector.
During the visit Mr Timpson joined students in enjoying a hot and healthy school meal in a Covid-secure environment, and was able to present the catering team with a certificate to recognise all of their hard work in continuing to feed pupils during these challenging times.
Commenting on the visit, Edward Timpson CBE MP, Member of Parliament for Eddisbury, said:
"It was brilliant to see first-hand the efforts made by headteacher Ms Gum and her team in making sure that they can continue to provide all of their children with a rounded education during these hugely challenging times. 
"It was also lovely to meet so many happy children and committed staff, not least the kitchen team of Corryne, Linda and Wendy, who have gone the extra mile during the pandemic.
"Well done to all!"
Stephen Forster, National Chair of LACA—The School Food People stated:
"It was great to see St Joseph's catering staff recognised by Edward Timpson today.
"I know that across the country school catering staff have been working flat-out to make sure children are fed—especially the most vulnerable.
"That is why LACA—The School Food People have been working since the start of the pandemic to make sure that school catering staff are protected and recognised for all their hard work."