Endeavour Primary School works hard on VegPower challenge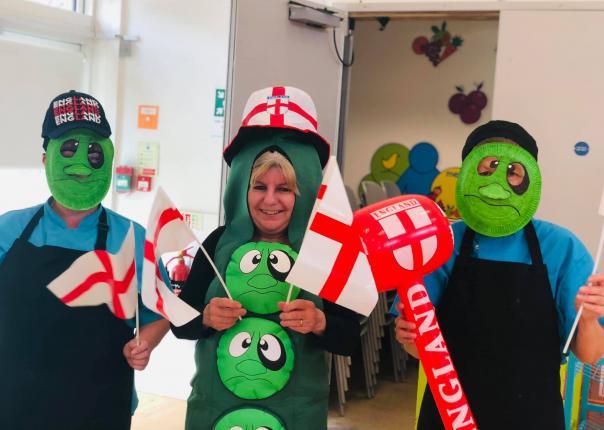 26 Jul 2021
Endeavour Primary School pulled out all the stops to engage their pupils in the VegPower 'Eat Them To Defeat Them' campaign that aims to increase fruit and vegetable consumption among young people.
It was one of 146 HC3S schools taking part, with HC3S business development manager Amanda Whatley saying: "Throughout the Eat Them To Defeat Them campaign the team at Endeavour have been outstanding every single week.
"They persuaded children to try the campaign vegetable of the week and succeeded in breaking down barriers by colourful dishes, decorated trolleys, instigating veg challenges of the week for pupils with games to match, and displaying all their vegetable artwork in the dining space.
"This was particularly challenging because 12 classes are still eating in classroom bubbles with two reception classes eating in the hall. So effectively, they are providing two services."
Among the imaginative challenges planned and executed by the onsite HC3S team:
•    Colour in a veg poster or design a poster to win a seed kit in tomato week (KS1)
•    Create a recipe on a poster for the kitchen team to make each week (KS2)
•    Bean bag toss game to win a seed kit
•    Sweetcorn skittles
•    Carrot monsters – created at after-school club
•    Dancing sweetcorn chemistry (popping them in vinegar to colour water)
•    A live Pea Monster visit to each classroom bubble during Pea Week
The campaign, which began in February, focused on different vegetables: carrots, peas, sweetcorn, broccoli, tomatoes, peppers. HC3S ran the campaign in its schools from June 7th to July 16th.