FareShare delivers four meals a second to vulnerable children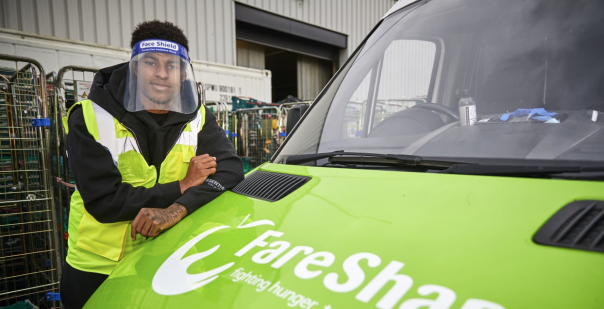 07 Apr 2021
The support of child food poverty campaigner Marcus Rashford, the UK Government and many of the UK's major food retailers has helped FareShare to more than double their food provision to vulnerable families.
Over the past year FareShare has distributed 128.5 million meals to vulnerable children and families - the equivalent of four meals every second.
Rashford's campaign placed the issue of child food poverty at the top of the news agenda 'capturing the hearts of the nation'. He partnered with FareShare in March 2020 because he was concerned that millions of children would be at risk of hunger following the school closures.
Research by the Food Foundation revealed that 2.3 million children experienced food insecurity in the last year – and the FareShare network is doing all it can to get as much good-to-eat surplus food as it can to these vulnerable communities.
Rashford said: "It has been a real pleasure being on this challenging but rewarding journey with FareShare over the last year. The staff, the volunteers and the families I have met have been incredibly supportive and brave with the stories they have shared with me.
"I've made no secret of my desire to see the end of hunger and food insecurity but for the need we have right now FareShare are doing a phenomenal job and I will continue to provide them with as much support as they need."
A survey of FareShare's network of charities revealed that 90% anticipate the demand for FareShare food will remain as high as crisis levels. Job loss, mental health and debt are cited as the top three reasons people need access to FareShare food.
Lindsay Boswell, FareShare chief executive, added: "We can't believe a whole year has passed since we first joined forces with Marcus Rashford and more recently the taskforce members.
"The impact of the Covid crisis has meant that the need for food support has never been greater, particularly among children and families, but with Marcus as our ambassador, and standing shoulder to shoulder with taskforce members, we have never been better placed to step up to the challenge and support communities in need.
"Working with Marcus and as part of the Child Food Poverty Taskforce, together we have truly built public and political will to tackle the issue of child food insecurity and we look forward to building on the achievements of the past year, as we work to a hunger and food waste free future."
FareShare are a founding member of the Child Food Poverty Taskforce, a group of organisations spearheaded by Rashford, which is calling on the Government to take action and tackle food poverty.