Food Waste Reduction Roadmap exceeds 210 food businesses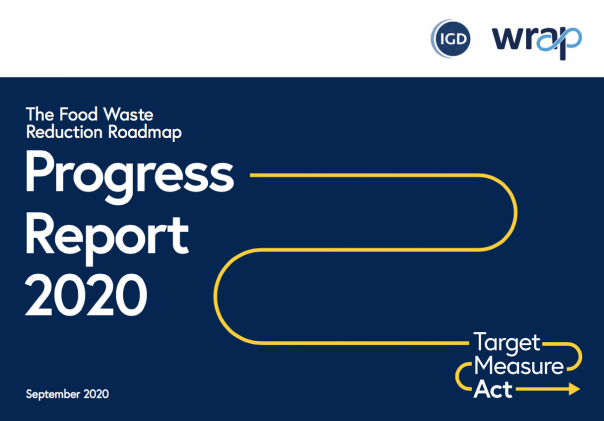 24 Sep 2020
The annual progress report for the UK's Food Waste Reduction Roadmap, published by WRAP and IGD, highlights the growing adoption of the 'target, measure, act' approach.
The Food Waste Reduction Roadmap is the only nation-wide programme operating from 'field to fork' anywhere in the world. Since its launch in 2018 the number of participating organisations has more than doubled to around 260, with food businesses numbering over 210.
Within the last 12 months 70 new organisations have committed to the Food Waste Reduction Roadmap. According to the latest comparable data Roadmap members have saved around £300 million worth of food from becoming waste.
Despite the disruption of lockdown Burger King UK, McDonald's UK and Pret A Manger have joined the Food Waste Reduction Roadmap. This year has also seen small and medium-sized enterprises join the Roadmap, including Joseph Robertson, Bute Island Foods and Stockan's Oatcakes.
The UK is halfway to achieving the UN Sustainable Development Goal (SDG) 12.3 to halve food waste by 2030. Within the next decade the UK is aiming to prevent a further 1.8 million tonnes of food waste.
Marcus Gover, chief executive of WRAP, said: "In January we reported that the UK was mid-way to completing its part in SDG12.3. Despite huge disruptions to the supply chain since then, food waste has remained a priority for most food and drink businesses and the Roadmap has become a blueprint towards our Courtauld 2025 targets, and the global goal. 
"We need around 400 more food businesses to commit to the Roadmap and 'target-measure-act'. It's also important that more businesses publish their data and insights, to help accelerate the collective effort.
"The rest of the world is looking to the UK to continue to lead the way, and the stakes are too high in terms of the environmental, economic and social costs of food waste for us to fail."  
The food Waste Reduction Roadmap aims to help the UK achieve the Courtauld 2025 targets and the UN's sustainable development goal 12.3. The UK is trying to deliver an annual reduction food waste of around 3.5 million tonnes compared to 2007 (worth £10 billion a year).
Ben Elliot, Government food waste champion, added: "It is an environmental imperative that we reduce food waste to stop the needless waste of resources, energy and water used to make our food, as well as the time, skill and dedication that goes into growing, making and serving it.
"As a nation we've made excellent progress in tackling food waste, but there's more we need to do, both in the food sector and as individuals in our daily lives. 
"I urge all businesses to commit to the Food Waste Reduction Roadmap and the principles of 'targeting, measuring and acting' so that we can go even further to tackle food waste."
To access the Food Waste Reduction Roadmap Progress Report 2020, click on the attached PDF file below: