Food wholesalers Brakes announces new website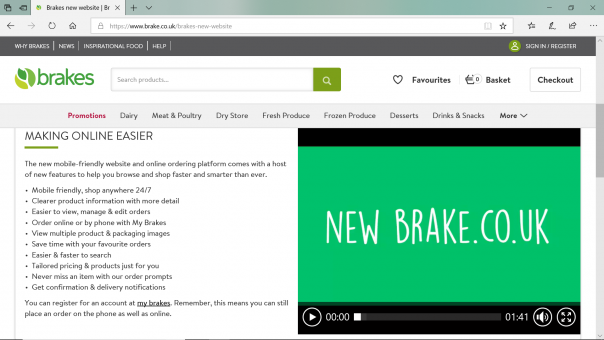 29 Jul 2019
Brakes has re-launched its website to deliver the 'best online shopping experience in foodservice' by adding some new features including notifications and a 'favourites' list.
Adam Collett, Brakes managing director, said: "The new website will deliver the most complete online shopping experience available in foodservice.
"Using a combination of our own market leading knowledge, and many hours spent talking to our customers about the features and functions that they believed would make their life easier, we have created a site that delivers on all counts."
One of the key developments is the 'My Brakes' feature, which offers customers the chance to look at their order history, receive order confirmations and delivery notifications.
The website is mobile-friendly and allows customers to search, manage and order items from their mobile phone or tablet. The 'favourites' list saves customers time for repeat orders.
The search function makes it easier to find products, pricing, information and images. The website will automatically tailor content for each user to ensure the content remains relevant.