Glasgow school pupils 'champion' Scottish produce in award win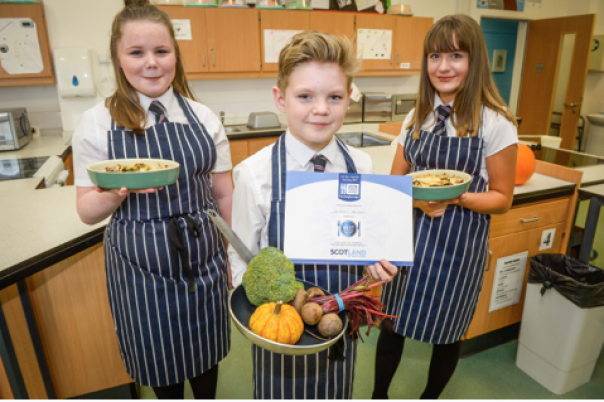 30 Oct 2017
Pupils from a secondary school in Kirkintilloch, Glasgow, have been crowned the winners of the Scottish Food & Drink Fortnight 2017 schools challenge thanks to their effective use of local and seasonal produce.
S2 students at St Ninians High School in the north of the city won the award as part of a two-week long initiative which encourages primary and secondary schools to champion Scottish produce.
During the Fortnight, which ran from 2-17 September, the pupils adapted a standard Home Economics vegetable bake recipe by incorporating vegetables that were sourced locally and seasonally.
The students used the seasonality calendar on the Scotland Food & Drink website to choose which vegetables were most appropriate for the recipe, and also used their cooking as a topic for discussion in class around the advantages of shopping locally and seasonally.
Fiona Richmond, head of regional food at Scotland Food & Drink, said: "Scottish Food & Drink Fortnight takes place every year and it's a fantastic way of celebrating our growers, producers, chefs and restaurateurs, as well as our vast and delicious Scottish larder.
"It was so encouraging to hear about St Ninians' efforts in engaging with the Fortnight and its principles – not only did they make a delicious meal to take home but they also took the Fortnight as an opportunity to understand more about the benefits of eating and sourcing locally. Their win was incredibly well- deserved."
As a prize, the S2 pupils received a variety of Scottish recipe books to use for their cookery classes, as well as a £50 voucher and tour opportunity for the Secret Herb Garden in Edinburgh.
St Ninian's home economics teacher, Elaine McKune, said: "We are delighted to receive this award and it great to be a part of this campaign. 
"We enjoyed taking part and as a department, we feel very passionately about the promotion of using local and seasonal produce in our cooking. The challenge fitted in well to our curriculum plans and we were able to adapt our lessons for that fortnight".