Government urged to keep feeding children during school holidays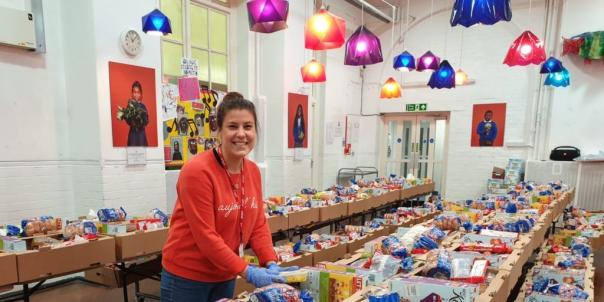 11 May 2020
A group of 23 charities, organisations and education unions have called on the Government to provide additional funding for continued food provision during the forthcoming school half-term and summer holidays.
In a joint letter to the Education Secretary Gavin Williamson and Schools Minister Vicky Ford, the group points to recent figures from the Food Foundation that show around 2m children across the UK are directly experiencing some level of food insecurity or hunger.
Before the Covid-19 lockdown, 1.3m children in England were eligible for benefit-related free school meals; a further 1.4m families have applied for Universal Credit since the start of the outbreak.
Campaign co-ordinator for the Children's Food Campaign Barbara Crowther said: "Hunger does not know the difference between term time and school holidays, and the Government's support for families should be continuous through this crisis.
"Given the scale of food and income insecurity being experienced by so many families, it is critical that the Government makes national level funding available to cover all the school holidays until the start of the new academic year."
The Welsh Government has already committed £33m additional funding to cover all holidays until the end of August, which is equivalent to holiday provision of £19.50 per week per child eligible for support.
However in England, the Department for Education has so far only committed to £9m funding for pilot holiday food projects in a few selected areas, with successful funding bidders still to be announced.
In the letter, the organisations say this is not enough and a national level holiday provision funding formula is now needed 'at a level sufficient to expand provision of free school meals substitutes, and to the National School Breakfast Programme, to cover all holiday periods across the whole of England until end of August'.
The Government did extend funding to allow the national school voucher programme for England to cover Easter holidays. The organisations argue that giving more advance notice for forthcoming holiday periods would allow schools, academy trusts and local authorities to make better plans with their relevant food and catering suppliers, or alternative voucher/cash support provision, with confidence that they will have the funds to deliver.
The list of signatories backing the call for holiday food provision as of May 6th:
1. Barbara Crowther, co-ordinator, Children's Food Campaign
2. Stephanie Wood, founder/chief executive, School Food Matters and co-chair School Food Plan Alliance
3. Anna Taylor, executive director, The Food Foundation
4. Jeanette Orrey, co-Founder Food for Life & co-chair School Food Plan Alliance
5. Rob Percival, head of policy, Food for Life/Soil Assocation.
6. Naomi Duncan, chief executive, Chefs in Schools
7. James Bielby, chief executive, Federation of Wholesale Distributors
8. Kath Dalmeny, chief executive, Sustain
9. Matthew Philpott, executive director, Health Equalities Group
10. Leigh Powell, national officer, Education & Children's Services, UNISON
11. Kath Roberts, board of trustees, Association for the Study of Obesity
12. Katharine Jenner, campaign director, Action on Sugar & Action on Salt
13. James Toop, chierf executive, Biteback 2030
14. Dr Helen Crawley, director, First Steps Nutrition Trust
15. Duncan Stephenson, deputy chief executive, RSPH
16. Andrew Forsey, national director, Feeding Britain
17. Alysa Remtulla, head of policy & campaigns, Magic Breakfast
18. Dr. Mary Bousted and Kevin Courtney, joint general secretaries of the National Education Union
19. Kirsty McHugh, chief executive, Mayor's Fund for London
20. Sara Jayne Stanes, chief executive, Royal Academy of Culinary Arts' Adopt a School Trust
21. Peter McGrath, operations director, Meals and More
22. Daf Viney, director of services, Hackney Migrant Centre
23. Nicola Dolton, deputy director services & innovation, Family Action
24. Tim Morfin, chief executive, Transforming Lives for Good
25. Tom McIntosh, operations director, Sport Birmingham