'Grab-n-go' breakfast scheme to be extended across UK after trial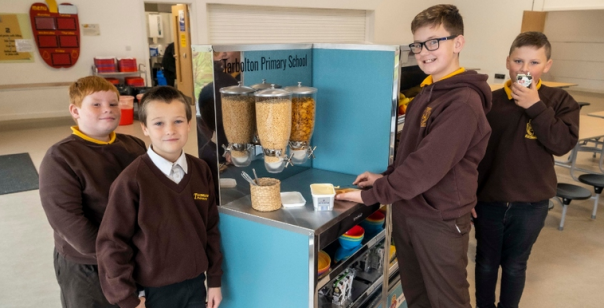 16 Feb 2021
An 'innovative' project offering Scottish pupils the chance to pick up free breakfast items from a mobile cart will be extended to other UK schools following a successful pilot.
The 'grab-n-go' scheme is based on a similar model used in Canada and the USA that gives schoolchildren access to nutritious food before class. During the pilot pupils at two primaries and one secondary school in East Renfrewshire had access to cereal, toast and fruit.
Researchers from Glasgow Caledonian University surveyed almost 500 pupils and 39 teachers during an initial trial in Barrhead and found many children skipped breakfast completely before school.
Professor John McKendrick, co-director of the Scottish Poverty and Inequality Research Unit at Glasgow Caledonian University, said: "An overwhelming majority of teachers were in favour of schools offering breakfast food provision. 
"The teachers surveyed were able to recall specific examples of students engaging less in learning on account of not eating breakfast. We also observed and talked with pupils. It is clear that the breakfast cart provided a service that was used and welcomed by staff and pupils alike."
Over the five week trial 827 children collected food from the cart, with the majority choosing toast (75%) and one quarter picked up at least one piece of fruit.
Before the trial two-thirds of secondary school teachers said pupils who didn't have breakfast in the morning were less engaged with learning.
The pilot was the result of a partnership between The Greggs Foundation, Glasgow Caledonian University, East Renfrewshire Council, catering companies E&R Moffat and Brakes, and Lindsay Graham, of the Poverty and Inequality Commission Scotland. 
Graham added: "In the current pandemic times this model could prove to be useful to help with delivery of breakfasts, lunch, and other food service opportunities like supper or after school clubs at the end of a school day. 
"It's great to see how a community partnership between sectors enabled this innovative approach to be piloted in East Renfrewshire. Most important was the access to breakfast the carts gave to all pupils at the start of the school day. A priority for us all in the pandemic recovery is good nutrition and wellbeing so this project and its learning is very timely."
Kellogg's and Quorn Foods have signed up to join the Greggs Foundation in funding a further 17 carts to be placed in schools across the UK.