Happy Maki named winner of Brighton's Veg City Challenge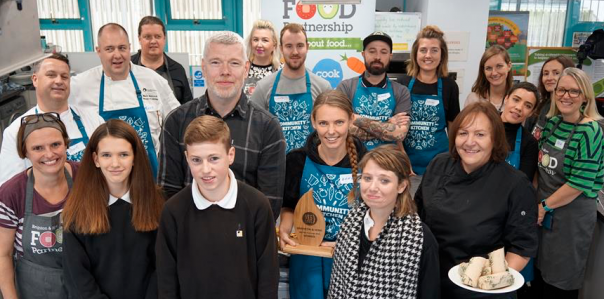 07 Nov 2019
Vegan sushi burrito producer Happy Maki was named the winners of the Veg City Challenge, which asked chefs from Brighton and Hove to create a recipe for a Grab 'n' Go meal that appealed to teenagers.

The judges unanimously chose Happy Maki as the winner for their 'Fully Loaded' teriyaki 'chickn' sushi burrito as it scored highest for taste and portability.
Anna MacDonald, founder and co-boss at Happy Maki, said: "Bringing healthy foods to kids is something I've been passionate about for some time. I'm just so excited about the opportunities [for schools] that could come from this."
The Food Foundation carried out a survey in 2016 that found 95% of teenagers in the UK don't eat enough fruit and vegetables. The competition is a chance for schools and caterers to increase vegetable consumption amongst teenagers.
Chloe Clarke, project manager at Brighton & Hove Food Partnership, commented: "Trends show an increase in demand for vegetarian and vegan food and this is particularly the case within the universities.
"This competition is about increasing the amount of vegetables consumed by teenagers, calling on inspiration from our top local chefs."
During the final, chefs produced their Grab 'n' Go meals at Brighton's Community Kitchen. The judging panel included Michael Bremner head chef at 64 Degrees, Nicole Pisani former head chef at Nopi London and Julie Barker the school chef at Gayhurst Primary.
Bremner, added: "I'm really excited to be involved with the Veg City Challenge. Brighton's got so many great food choices and some incredibly talented chefs and restaurateurs. I think it's important to come together and use this in schools to help teenagers make healthier choices." 
The finalists included Brighton Food Factory, Gem's Wholesome Kitchen in collaboration with Big Beach Café, University of Sussex (Compass), Foodini, Happy Maki, Higgidy and Varndean Secondary School. 
A survey by Brighton and Hove City Council showed fruit and vegetables consumption decreases amongst children from year eight to 11.
Barker added: "The initiative is a great example of progressive thinking in making vegetables attractive and appealing to the next generation; helping schools incorporate veg within their menu planning as an integral ingredient. The quality of recipes put forward were outstanding and, as a judge, I would commend all those who took part." 
According to the BHFP Survey in 2018 87% of Brighton and Hove residents would like restaurants and caterers to include at least two portions of vegetables in all children's meals.