Harlech Foodservice makes donation to Cheshire food hub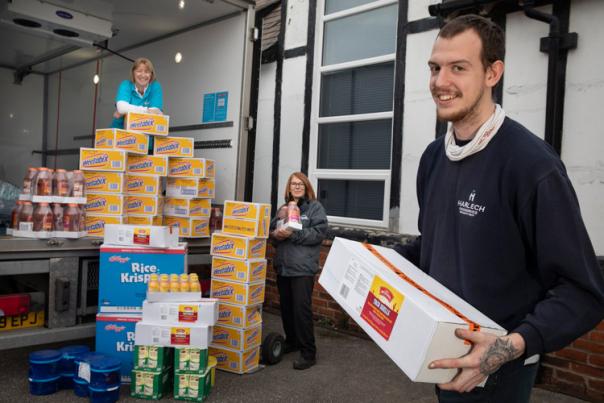 13 Jan 2021
Wholesaler Harlech Foodservice dropped off a haul of provisions at the Cheshire food hub in Northwich after being 'inspired' by child food poverty campaigner Marcus Rashford.
The donation included 80 bumper boxes of 96 Weetabix enough for several thousands of breakfasts, 63 packets of chilli con carne sauce, over £200 of bread roll mix, hot chocolate and other non-perishable items.
Ceri Brown, Harlech Foodservices digital project manager, said: "We have often donated to food banks but with the pandemic the need is so great and inspired by Marcus Rashford we wanted to do more.
"The effect of the recent lockdown was to leave us with plenty of stock so we have made arrangements and delivered to the Cheshire Food Hub at Northwich.
"There they were providing 1,000 Christmas boxes but with lockdown in England, that has now gone up to 10,000 and with our new depot in Chester we are hoping to help out a lot more in that area."
The food hub serves food banks across the county from Chester to Macclesfield. In November 2020 Harlech Foodservice has won a three-year school meals contract to supply over a million meals annually across Denbighshire.
Jo Garner, of the charity Changing Lives Together, which co-ordinates the Food Hub, added: "We're really grateful to Harlech because we realised there was going to be a huge demand for food banks across the county.
"During the summer we were feeding about 5,000 children with food boxes, mainly in Cheshire West but we've now moved to a bigger long-term base in Northwich which means we can look to buy in bulk and take donations of food from many sources."