HC3S partners with Tilda to start vegetable competition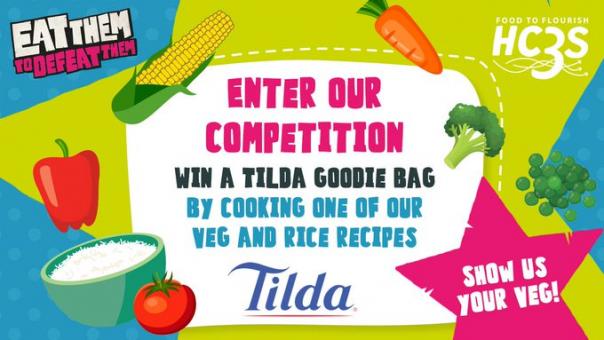 10 Jun 2021
Hampshire County Council Catering Services (HC3S) has partnered with Tilda to start a competition asking participants to cook one of their veg and rice dishes.
From 7 June until mid-July all HC3S primary schools will be taking part in VegPower's Eat Them To Defeat Them campaign, which aims to encourage children to consume more vegetables.
HC3S plans to host cook-along sessions with Tilda featuring each week's vegetable. Every week the catering teams will offer tasting tables with the 'veg of the week' for children to try.
To enter the competition you must post a photo of you and your meal on Facebook. You must tag @hc3seducationcatering and Tilda @TildaRice and use the hashtags #FoodToFlourish #ElevateYourPlate #PrepareForBattle.
Eat Them To Defeat Them featured veg/recipes:
Week 2 (14 June): Sweetcorn

Week 3 (21 June): Peppers

Week 4 (28 June): Carrots

Week 5 (5 July): Peas

Week 6 (12 July): Broccoli
Schools will be holding veg assemblies and using veggie lesson plans to encourage children to eat more vegetables. Veg Power's 'Eat Them To Defeat Them' campaign was postponed in February and the new campaign will coincide with British Tomato Fortnight and Great British Pea Week.