Hilary Witt honoured at Cost Sector Catering Awards 2017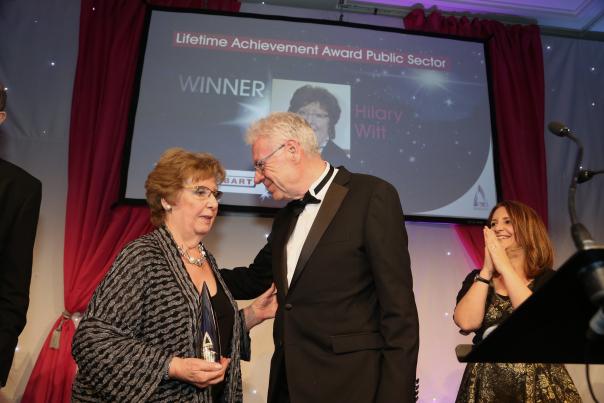 25 Apr 2017
LACA honorary treasurer, and the organisation's very first chair, has received the Public Sector Lifetime Achievement Award at the annual Cost Sector Catering Awards. It was made in recognition of her work in helping set up the association and build its importance and influence since then.
After receiving the award at the Hilton London Metropole on Thursday, April 20th, she said: "I'm totally shocked. This is such a lovely surprise. I really thought my days of picking up awards were long gone."
Cost Sector Catering editor David Foad spoke about Hilary's role in the early days of LACA in a citation before the award presentation.
"The late 1980s was not a happy time for school meals in the UK. The service suffered from a lack of investment because it was increasingly seen as an add-on, the growing popularity of fast food restaurants was changing our eating habits dramatically, and compulsory competitive tendering meant providers were driven to look at how to serve meals as cheaply as possible. The quality of the food on offer can best be described as variable," he said.
"There were plenty in the school meals service who cared deeply about the health and wellbeing of school children,  Hilary Witt among them.
"They were grouped together at the time as the National Association of School Meals Organisers (NASMO), but found themselves increasingly on the back foot against the 'lowest bidder' mentality and when the HCIMA withdrew funding for NASMO it seemed an especially black day.
"Hilary was at the heart of this rather depressing scene, the county catering officer in Cambridge and chair of NASMO at the time.
"But rather than accept the silencing of the voice of school caterers, she saw a challenge and accepted it, believing passionately in the benefits to children and society of a well-run school meals service that supplies tasty and nutritious food.
"Her vision was for a new, vocal, self-funding organisation that could champion these ideals and help local authorities to defend the viability of their school meals services.
"She identified a group of like-minded, senior members of NASMO and they pooled their resources to create LACA, the Local Authority Caterers Association, of which she became the first chair.
"With characteristic energy she organised a national conference that drew 150 delegates, produced a yearbook and helped enlarge membership dramatically - all within the first year.
"Many of the objectives, and the strategic plan set in 1990 under her direction, are still relevant today. LACA, now the Lead Association for Catering in Education, is undeniably the voice of a school meals industry worth hundreds of millions of pounds, employing thousands and feeding millions of UK youngsters every school day. And it is recognised as such by Government, head teachers, parents and the sector at large.
"Sadly her husband Doug passed away soon after she retired seven years ago - a support and comfort for her, she still feels his absence.
"But since then she has continued to give freely of her time and experience, working as LACA's honorary treasurer and continuing to oversee the tendering of key LACA contracts.
"Colleagues say of her, 'she rules with a rod of iron', though this has been known to slip a little when it comes to keeping meetings running to time.
Her passions outside of LACA extend to an immaculately kept garden, a beautiful home that is also a continuous improvement project, and the odd glass or two of wine.
"Along the way she acquired among colleagues the nickname HRH, a fond reference to her her absolute determination to see LACA governance carried out to the letter of every rule and regulation, but mostly because she remains 'The Queen of the school meals sector'."