Interview with SCOTY 2021 winner Rob Chambers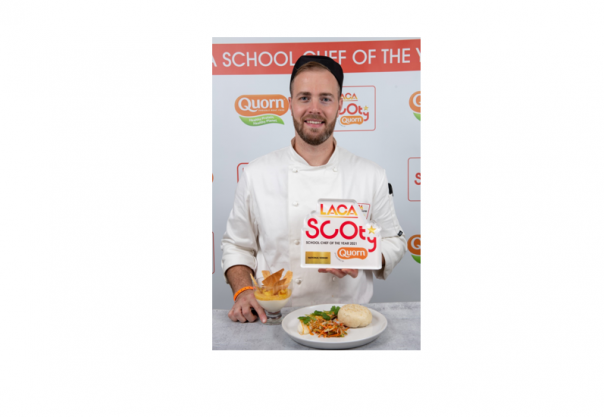 26 Nov 2021
David Foad, editor of Public Sector Catering, interviewed the 2021 School Chef of the Year Winner Rob Chambers at the LACA Main Event.
Rob Chambers from Hampton College (IFG Cucina) cooked a main course of aromatic steamed bao bun, sriracha glazed Chinese cabbage, Asian salad with a soy and chilli dressing. For dessert he made coconut and lemongrass panna cotta, pineapple compote, charred pineapple with coconut tuile.
In addition to the kudos of winning the national title, the 2021 champion received a £1,000 cash prize and the LACA 2021 School Chef of the Year trophy. Chambers also won a work experience trip and an invitation to a calendar of high profile catering industry engagements.
When asked why he became a school chef Chambers replied he has been a chef for 16 years and it was actually one of his close friends who had been in the school food industry for a number of years. When he became a school chef he wanted to "see fresh food used to feed kids."  
Hampton College has around 1,300 pupils and the catering team supplies food for 900-1,000 students every day, with 180 of these being free school meals pupils. Chambers said his team works with a three weekly rota to serve classic dishes on Mondays, Asian cuisines on Tuesdays, a roast dinner on Wednesdays and fish & chips on a Friday. He praised the "great team of ladies behind" him who enable him to have more time to plan new menu ideas.
When speaking about his winning SCOTY dishes he said that he was aiming to create a unique dish using East Asian and Chinese flavours. Chambers tried his menu out on the children who attend Hampton College and he stressed the importance of getting children to try new things despite how hard it is sometimes.
Quorn were the sponsors of the SCOTY 2021 competition with entrants having to use the meat-free alternative in their main course. Chambers stated he has a large vegetarian/vegan contingent in his school and he praised the versatility of Quorn.
He said the SCOTY competition was "one of the best experiences of my life" and encouraged school chefs to enter the upcoming 2022 competition.
Chambers concluded: "With the standard and skill level amongst this year's finalists being so high, it was an honour to have competed with such a talented group of people. I am looking forward to an exciting year as the new LACA School Chef of the Year national champion."