Jamie Oliver praises SCOTY competition winner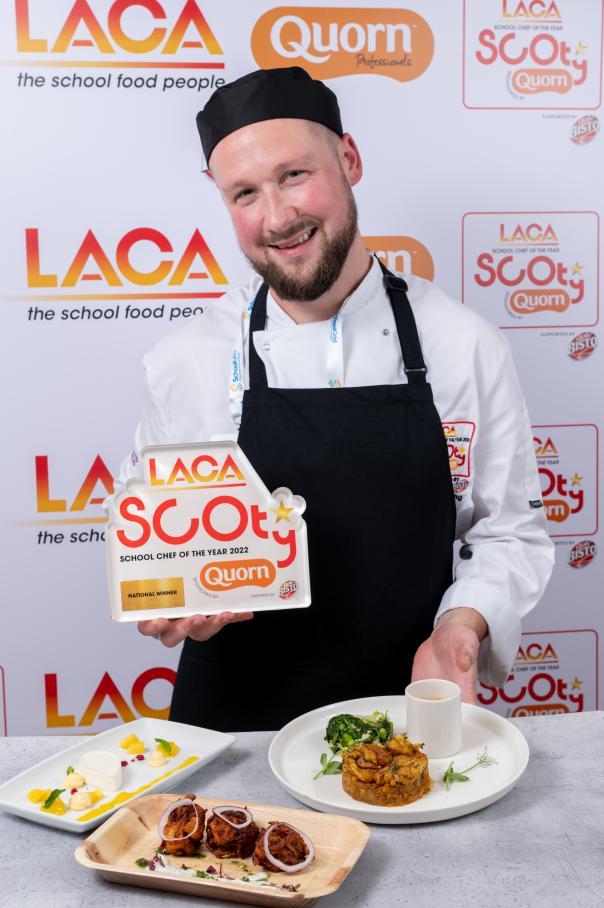 26 Jul 2022
Celebrity chef Jamie Oliver praised Tom Armstrong after he won the School Chef of the Year (SCOTY) competition, which took place during the LACA Main Event earlier this month.
Oliver said via Twitter: "Big congratulations to Tom and all of the chefs involved working so hard to bring fresh and delicious food to young people 190 days a year."
The LACA School Chef of the Year (SCOTY) is now in its 28th year and is something of an institution in school meals catering. It has drawn national attention with the annual winners often appearing on TV to showcase the potential that lies within the school kitchen.
Tom Armstrong, employed by Mellors Catering Services and chef manager at Shelley College in Huddersfield, emerged as the worthy winner of the SCOTY competition.
He served up a Tandoori Quorn & Onion Bhaji in the 'Grab and Go' class before going on to deliver an Indian spiced Quorn Cottage Pie, served with crushed Bombay potatoes, butter sauce and greens for his main course. His dessert of Coconut milk panna cotta with mango puree and freeze dried raspberries completed the meal.
After winning Tom said: "I have met some amazing people, who now feel like family. LACA is a fantastic organisation. As a first time finalist, I loved the welcoming feeling. I am so excited for the next 12 months."
As the winner Tom received a £1,000 cash prize, the 2022 LACA School Chef of the Year trophy and an invitation to a calendar of catering industry events including a study tour in Germany courtesy of MKN.
Tom's three winning dishes can be viewed below.