LACA announces 2020 Awards for Excellence Winners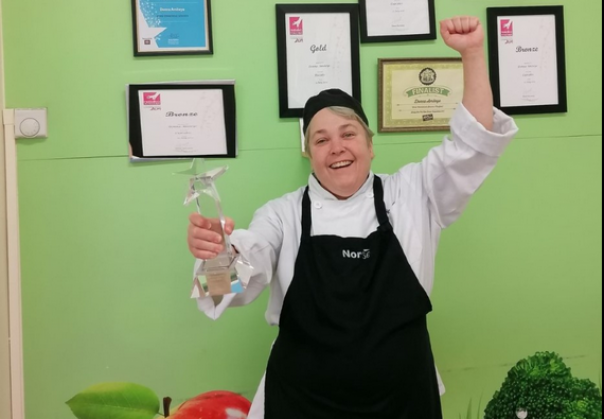 25 Nov 2020
The winners of the 2020 LACA Awards for Excellence, which recognise individuals and teams that have made a 'real difference' to school food and education catering, have been announced.


Unfortunately the usual awards presentation could not take place at the LACA Main Event this year due to the Covid-19 pandemic but LACA wanted to recognise the hard work of individuals and teams through a virtual awards ceremony.
The winners include:
LACA Unsung Hero Award 2020
Sponsored by Civica


Donna Amiteye – Norse Catering

LACA Primary School Catering Team
Sponsored by Middleton Foods


Knightlow Primary School – Educaterers

LACA Secondary School Catering Teams
Sponsored by Bidfood


Longfield Academy – LTS Catering

LACA Outstanding Supplier Award




Quorn Foods

Chairman's Award
Jessica Crane -

Chartwells
Amiteye is a cook manager at West Earlham Infant and Junior School. She won the Unsung Hero Award for running a weekly chef club for KS1 and KS2, volunteering at the local community hub to feed vulnerable children and every year she collects and ships donations to a school in Ghana.
The Knightlow team has a committed, open and enthusiastic approach to encourage pupils to want to eat their food.
The Longfield Academy catering team provide breakfast, break and lunch meals to over 1,600 students a week and they are also working towards the Bronze Food for Life award.
The LACA Outstanding Supplier of the Year Award went to Quorn Foods. Stephen Forster, LACA chair, said: "This has been a challenging year for our suppliers with supply chain issues, changes to order patterns due to fluctuating school meal numbers and the additional demands of managing deliveries along Covid guidelines.
"We would like to thank all our suppliers and name check all the companies who had an awards entry submitted this year - who are: Bidfood, CRB Cunninghams, Devil's Kitchen, Hannah Foodservice, Kraft Heinz, Quorn Foods and Young's Seafood." 
Jessica Crane, senior nutritionist and head of technical & training at Chartwells, won the Chairman's Award. When asked what did she enjoy most about her job, she replied: "Working with food, talking about food…eating food!
"I love that I can use my passion for delicious and healthy food in my job and make a difference as a nutritionist. I particularly like the fact that our nutrition team are always striving to do even more and there is never a dull moment!"
Forster added: "Thank you Jessica on behalf of myself, LACA and our members for all that you have done as a LACA Member to bring our allergens strategy to life and provide a valuable benefit for all who choose to use it.
"Today through this award, it is an absolute pleasure to be able to thank you personally in this way for all you do for us and for our industry."