LACA Main Event opens doors to attendees and delegates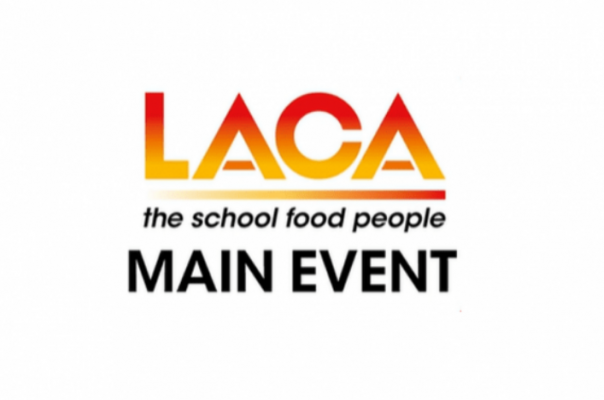 12 Oct 2021
The LACA Main Event, the only national event dedicated to the school food sector, starts today (October 12th) and runs through until October 14 at the Birmingham Hilton Metropole.
Over the course of the three days, it offers a packed conference speaker programme, free-to-attend workshops and the opportunity to watch the School Chef of the Year (SCOTY) finalists preparing their two course menu to decide this year's winner.
There will also be the annual LACA Awards for Excellence, the skills-based Finishing Touches salon culinaire competition and, running throughout, the School Food Show where suppliers will be showing off the latest products designed for the school food market.
Highlights of today's conference programme include a 'Four Nations Working Together' panel discussion where the current priorities for each nation's school meals service will be revealed. The speakers on this session include Stephen Briggs (Northern Ireland), Jacquie Blake (England), Judith Gregory (Wales) and Jayne Jones (Scotland).  
There will be several keynote speakers throughout the three-day event, including:
Dr Ranj Singh author and NHS clinician will deliver a keynote speech on 'Happy and Healthy Children: the importance of diet and exercise'.

Dr Donald Bundy will talk about the global importance of school meals and school health programmes.

Dr Andy Kemp MBE will discuss the lessons of the Covid-19 pandemic.

Olympic javelin thrower Tessa Sanderson who will share her journey to becoming an Olympic champion.
Nadim and Tanya Ednan-Laperouse will talk to attendees about the work of NARF (Natasha Allergy Research Foundation) and the role the school food sector needs to play as Natasha's Law came into effect from 1 October 2021.
On Wednesday 13 October there will be a panel session on allergens that will be chaired by Stephen Forster. This session will discuss the range of tools to support schools, caterers and pupils to understand best practice with regards to managing allergens safely, including the LACA Allergens Guidance and Risk Analysis Process (RAP).