LACA School Chef of the Year regional winners revealed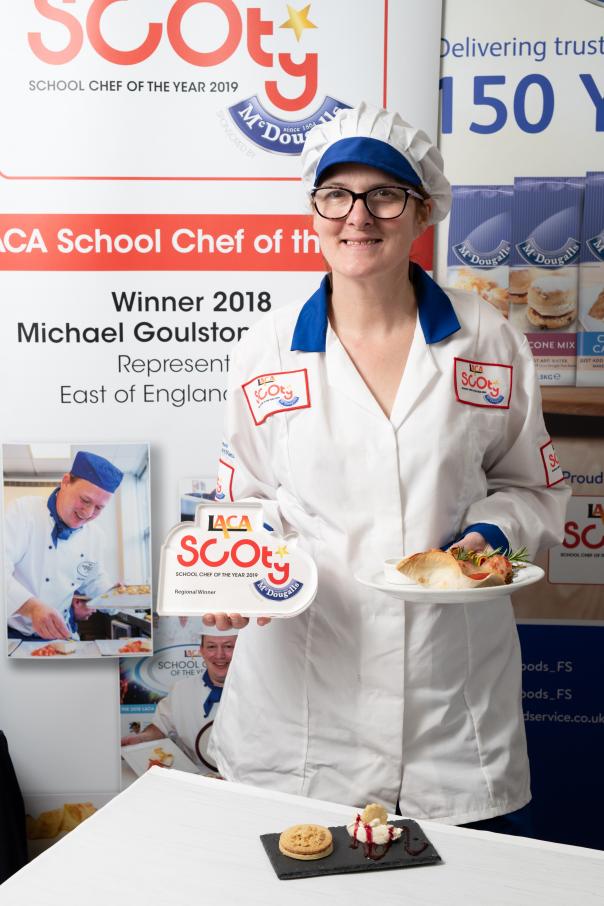 24 Jan 2019
The final winners of the LACA regional School Chef of the Year (SCOTY) sponsored by McDougalls regional finals have been announced.
Yesterday Jane Jones, employed by Denbighshire County Council and based at Ysgol Twm or Nant, Denbigh was announced as the Welsh regional winner after serving lamb meatballs served in a tortilla bouche, veg kebabs, rosemary potatoes and yoghurt dip.
It was followed by a fruit-topped shortbread served with a quenelle of lavender cream.
Dave Leeper, employed and based at The Trafalgar School at Downton was also announced yesterday as the South West regional winner.
His two winning dishes were: chargrilled chicken with leek and bean ragout and focaccia followed by a dessert of warm chocolate brownie with forest fruit compote.
The Yorkshire and Humber regional winner was revealed as Matt Betts, who is employed by BMBC Schools Catering Service in Barnsley.
He served a main of battered mackerel strips, tomato, pepper and onion concasse on iceberg lettuce and tortilla, basmati and wild rice with vegetables.
His dessert was strawberry super mousse with shortbread bat biscuit.
Tanya Malone, who is employed by Educaterers and cased at Rugby Free Secondary School, became the West Midlands winner after showcasing her main of a a fish crumble with spaghetti potato and courgette and carrot puree .
The desert was a twist pizza, a sweet-topped pizza with a wedge of lime jelly.
And the East Midlands winner was revealed as Sara Franklin from Northampton.
Employed by Radish/Campion School and based at Campion School in Northampton, she won with a chicken and sweet potato tikka masala, lime and coriander rice and cumin and ginger naan bread.
Her dessert was a lemon and sultana sponge with lemon frosted topping.
Each contestant had 90 minutes to prepare four portions of a main course and a dessert suitable for serving to 11 year olds in school.
They will now go on to compete against the other regional champions in the National Final to be held on March 7 in Stratford Upon Avon.