Love British Food crowns competition winners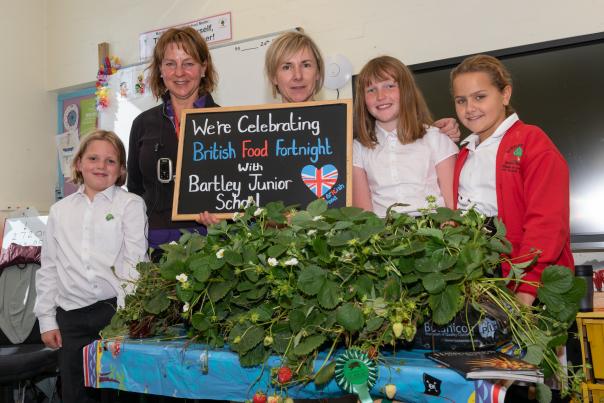 21 Nov 2018
Love British Food crowned Tracey Nash and Nancy Judge of Hampshire Fare the winners of this year's British Food Fortnight competition.
In its sixth year, the competition looks for 'events that strengthen the local community, support the economy and educate the public about British food and eating locally".
Hampshire Fare was praised for its 'outstanding' efforts teaching young children about food provenance in a 'fun and inspiring' way, and getting over 400 Hampshire-based schools involved in British Food Fortnight (22 September – 7 October).
This has seen the not-for-profit organisation arrange talks from local suppliers and farm visits in local schools, and push schools across the country to put British food on their menus.
As part of its prize, it has the chance to be a 2019 Love British Food ambassador as well as taking home £250 Co-op vouchers and a case of its champagne.
Chef Raymond Blanc, Love British Food ambassador and judge, commented: "The Hampshire Fare team are so passionate and committed about supporting and promoting the talented local produce and craft communities, and I love the fact that the children get so inspired and learn so much.
"Competition entries were once again fantastic. I always enjoy reading through the notes and learning what efforts the communities have put into their projects.
"The community spirit and sense of coming together to celebrate British food Fortnight is so special, and this campaign is wonderful for people to show off what they have done".
Alexia Robinson, Love British Food founder, commented: "This year the British Food Fortnight competition saw a record number of entries. So many people got involved from food festivals, hospitals, care homes, schools, universities and many more, to help us rediscover and appreciate all that is great about British food.
"We are incredibly proud of all entries that we receive - particularly from schools and care homes that work to such tight budgets."
Judges included: chef Raymond Blanc; Alexia Robinson, founder of Love British Food; food writer Candice Brown; Liz Earle, wellbeing writer and farmer; Cathryn Higgs, head of food policy at Co-op Food; and Breige Donaghy, director of Delicious Food, Co-op.