McDougalls Young Baking Team of the Year 2019 announces shortlist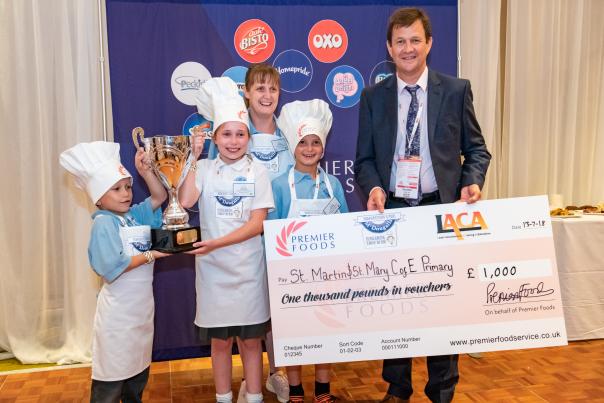 28 May 2019
Premier Foods has announced the five shortlisted schools for its McDougalls Young Baking Team of the Year competition.
Ryhill Junior Infant and Nursery School
St Martin and St Mary C of E School
Cherry Burton School
Woodlands Primary School
Kingstone Academy Trust.
The shortlisted schools will compete in a live final held at catering exhibition LACA's The Main Event in Birmingham on Thursday 11 July.
Sarah Robb, channel marketing manager at Premier Foods said: "This year is an incredibly exciting year for the McDougalls Young Baking Team of the Year Competition, not only is it our fifth year running but we also have a whole host of exciting new elements for 2019.
"First off, we are looking forward to welcoming a brand new guest judge, Tanya Byron, who will be joining the panel, I'm confident with all of the judges' combined expertise we're going to have our best year of judging yet.
"On top of this, we will also be working with Birmingham Mind, the mental health charity. This is such an important element to us as we have seen a clear link off the back of the competition between cooking and pupils' confidence increasing, so we really believe this will help enhance this further. Mental health is a really key topic right now and it's essential it's taken seriously in the school environment.
"I want to finish by saying a huge thank you to everyone who took the time to register and enter, as well as a massive congratulations to all the shortlisted schools. As always it was so tough choosing the final five, we were blown away by the standard and we can't wait to see all the incredible dishes come to life in our exciting live bake off at LACA. What an incredible way to celebrate the fifth anniversary."
Premier Foods has also introduced a new element to this year's competition, in the form of a partnership with Birmingham Mind, the mental health charity, who will be on hand in the lead up and on the day of the competition.
On Wednesday 10 July a charity representative will be leading a one hour session with school caterers, running exercises on how best to deal with children's confidence in the kitchen. On the day of the final, before the live bake off, all pupils from the shortlisted schools will also be taking part in a one hour workshop, which will involve resilience training to help relax the pupils and ensure they feel comfortable, confident and excited for the final ahead.
The McDougalls Young Baking Team of the Year competition helps school caterers to encourage teams of up to three children, between the ages of 7 and 11, to develop an interest in cooking skills by baking either one sweet or one savoury recipe, including a product from the McDougalls Flours or Flour Based Mix range. Continuing with the theme of 'local produce', teams were also required to include an ingredient that had been sourced within a 30 mile radius of their school. The five finalists will compete for the chance to win the jackpot of £1,000 worth of kitchen equipment for their school. All runners up will also receive £250 worth of kitchen equipment.