Mellors Big Red Bus wins Educatering Excellence Award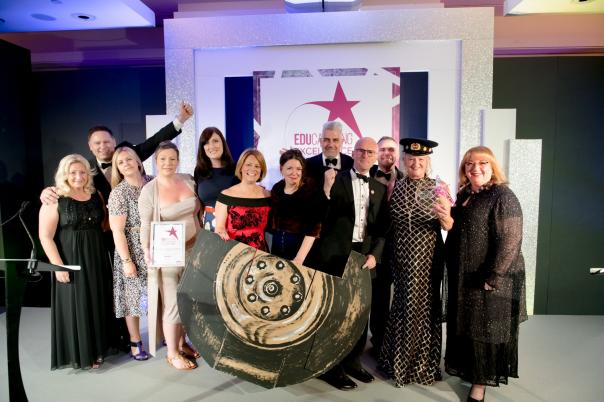 24 Oct 2019
Mellors Catering Services are celebrating after the Big Red Bus project won the Innovation Award at the Educating Excellence Awards 2019.
The Educatering Awards took place at London's Royal Garden Hotel on 8 October. The event was attended by some of Mellors key staff involved with the Big Red Bus project, including Danielle Watkins head of food and nutrition and Carol Regan the 'superstar' bus driver.
The Innovation Award aims to recognise a new concept, product or service that has contributed to the highest standard of school catering.
The Big Red Bus has been kitted out as a mobile catering unit and it travels around the UK visiting schools to give children a completely unique lunch experience. Mellors vintage double-decker bus has visited 20 schools and served more than 4,000 pupils so far.  
During their visit, pupils learn about where food comes from, the benefits of healthy eating and they receive a freshly cooked hot meal. Teachers, governors and parents are welcomed abroad to experience the Big Red Bus.
Deb Bacon, chief operations officer at Outwoods Primary School, said: "Mellors catering took it up a notch when they arrived on our school sites with the Big Red Bus. The children were so excited to have the opportunity to take a lunch on the bus and enjoy the innovative environment.
"We saw an increase in take up of school meals with some children who are always packed lunches taking a hot meal to take part. Some of our children have never been on a bus and certainly not the iconic red London variety. It certainly created a buzz around school for all of the children.
"The whole experience of handing in their bus ticket to come on board and the activities made it truly enjoyable for the children and something they were talking about for days after! Parents also commented on how innovative the idea was and we hope that the Big Red Bus will be back to see us again soon."
The Big Red Bus is set to attend another 36 schools by the end of 2019, serving over 14,000 pupils.
Watkins added: "Thank you, thank you, thank you! We are absolutely over the moon to have won this award. The Mellors #BigRedBus project is reaching out to children all over the North of England and the fact that the audience voted for us to win made the award even more special.
"Every day is an incredible adventure with our bus, and it was fantastic to have got external recognition for the hard work and effort that has gone into the project."