Moray Council achieves bronze Food for Life award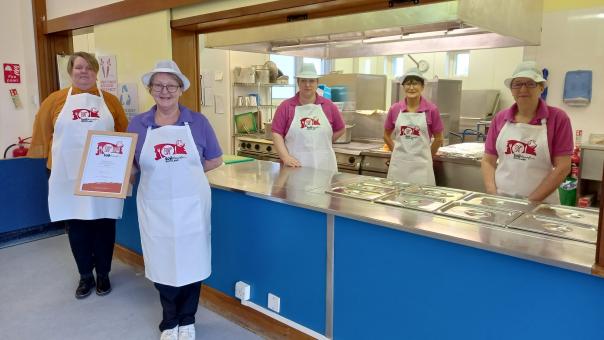 26 Jan 2022
Moray Council's catering team has achieved the bronze Food for Life Served Here award for its work in serving fresh, local and healthy food from its 45 primary school kitchens.
The bronze award recognises that a minimum of 75% of dishes are freshly prepared from unprocessed ingredients. Meals are also free from undesirable fats, sweeteners, additives and all genetically modified ingredients. Catering teams use free range eggs, higher welfare meat and ingredients from sustainable and ethical sources.
Catering manager Elaine McRae, said: "School meals in Moray remain a popular choice for families as we prioritise serving healthy and nutritious meals using responsibly-sourced and ethical ingredients.
"I'm delighted that the dedication of the catering service has been recognised through this award; we'll continue to ensure our primary pupils receive high-quality, tasty and nutritious food – and keep their favourite dishes on the menu."
Around 17,500 meals are served in Moray's primary schools each week, using locally-sourced ingredients wherever possible. 
Sarah Duley, head of food at Soil Association Scotland, added: "We are delighted that Moray have come onboard as the 18th local authority to achieve the Food for Life Served Here award, joining us in our mission to get fresh, local and sustainable food onto school plates across Scotland. Public procurement is an important tool that can be used to transform food production and supply, strengthen local economies and tackle climate change.
"This award recognises the fantastic work Moray Council is doing in building relationships with local suppliers and serving primary school children with nutritious and sustainably sourced food and gives the catering team the recognition they deserve."