Mount Charles Big School Cook Off Competition supported by NI chefs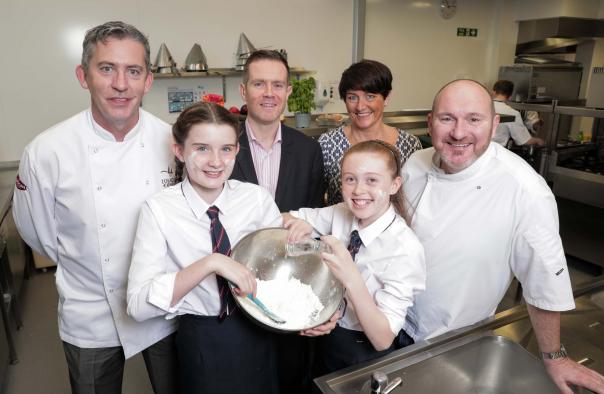 03 Oct 2019
The annual Mount Charles Big School Cook Off Competition, in association with SuperValu, has been launched with the support of top chefs from Northern Ireland including Ian Orr, Noel McMeel and Danni Barry.

The competition, now in its fourth year, is open to primary schools across Northern Ireland and Donegal, aged between 11 and 14.
Speaking on behalf of NI chefs championing the competition, executive head chef of Lough Erne Resort, McMeel said: "We are delighted to lend our support to this initiative, it's our duty to connect and do more within hospitality and show the next generation of catering professionals how rewarding this industry can be."
Students in team of two are asked to submit a main course recipe that feeds two and focuses on locally sourced ingredients for £10 (or € equivalent). One recipe per county will be shortlisted on 22 November and advance to the grand finale next march, at Belfast Met's Titanic Quarter Campus.
Catriona Lennox, Mount Charles' business development manager, added: "This competition is first and foremost an exercise in addressing the serious skills gap in the food service industry in Northern Ireland, by encouraging the next generation of potential young chefs to learn about food provenance and get cooking. 
"We want to support kids with a passion for cooking and give them an insight into the hospitality industry. We're hoping it will inspire them to consider a career in foodservice and we'll do what we can to support their future training and skills development."
Prior to the final, in January, finalists will be invited to recreate his or her dish at their local SuperValu store.
Brendan Gallen, head of marketing at SuperValu, commented: "SuperValu is delighted to be involved once again in this great initiative giving our top young foodies a chance to showcase their talents.
"Good luck to everyone entering and we look forward to welcoming the regional finalists to their local SuperValu for live demos next year."
Teams are asked to submit their recipes to https://bigschoolcookoff.co.uk, detailing their recipe choice, locality and ingredients.