New school kitchen opens during NSMW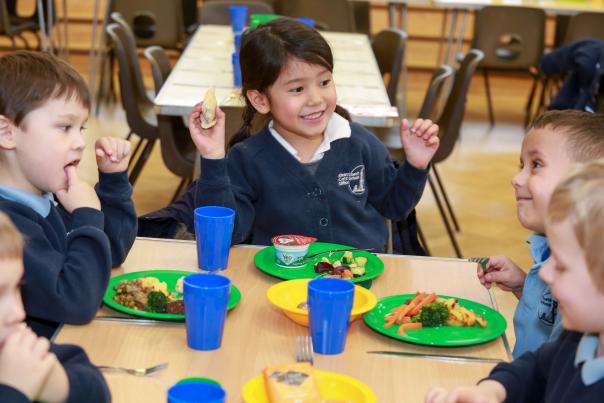 18 Nov 2019
A new school kitchen has been opened at Wolsey House Primary School in Leicestershire during LACA's National School Meals Week (NSMW).

Wolsey House celebrated the official opening of its new kitchen, which means schools meals can now be prepared on the premises. 
On 13 November staff served up roast chicken with roasted potatoes, sage and onion stuffing, as well as a vegetarian alternative. This was part of Roast Dinner Day, which aimed to bring people of different generations together for a roast dinner.
Roast Dinner Day was during National School Meals Week, 11-15 November 2019, and was an opportunity to showcase nutritious school meals. 
Assistant city mayor for education councillor Elly Cutkelvin, said: "We're very proud of our school meals service, which offers so many children a nutritious, delicious and good value meal every day. It's great to get together to celebrate with a roast dinner to mark National School Meals Week.
"The new kitchen at Wolsey House is a great facility which means hot meals can be made on site – and the dining area has been decorated to make it a friendly and welcoming place to spend your lunchtime.
"All children in reception, years one and two get a free school meal. Children of any age whose families are on a low income or receiving certain benefits are entitled to free school meals, which we would encourage people to take up because there's such a good choice of food on offer."
The kitchen at Wolsey House has been refurbished by the city council and the staff will now be able to prepare 280 school meals per day.
Helen King, headteacher at Wolsey House Primary School, added: "We are very grateful for this valuable investment made in the school. There has been an increase in pupil numbers during the past few years and it is an advantage to cater for pupils on site."
City Catering staff prepares around 13,000 school meals every day, served up to pupils in 50 city schools. The school meals are balanced and nutritious, with a diverse choice of menus and they typically cost around £2.30 a day.