One in four Brits cut down on animal products during Covid-19 pandemic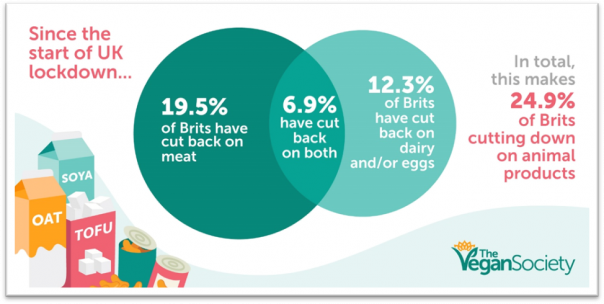 11 May 2021
Brits have reduced the amount of animal products they're consuming since the start of the Covid-19 pandemic, according to research by The Vegan Society.
A survey, which focused on changing consumer habits over the last 12 months, found one in five people (19.5%) have reduced the amount of meat they are eating while 12.3% say they have reduced their egg and dairy intake.
The research also found that more than a third (34%) are spending more time with their companion animals and 32% are thinking more about their personal impact on the planet.
A second survey aimed at those who had cut back on animal products found:
35% motivated by health concerns

30% motivated by environmental concerns

21% motivated by animal rights issues
Over half (54%) revealed they'd bought meat alternatives for the first time during lockdown with 78% saying they will continue to buy them again in the future. Plant-based milks also proved to be popular with 36% of respondents trying oat milk for the first time and of those 67% said they would purchase it again post-lockdown.
Public Sector Catering are hosting Plant-Based Week (17-21 May), which will explore the benefits of following a plant-based diet. 
Reacting to the news, Louisianna Waring, insight and commercial policy officer, said: "It's fantastic to see that not only are people consciously cutting back on animal products, but that this trend has continued over the last twelve months. It's no surprise that the pandemic has inspired so many consumers to make the switch to plant-based alternatives and adopt a more planet-friendly diet."
"Covid-19 has certainly made people think twice about what they're eating and where it's coming from. This is highlighted by the large number of people cutting down on animal products because of their own health concerns."