Prue Leith and Dr Rupy to host Cook Clever, Waste Less TV show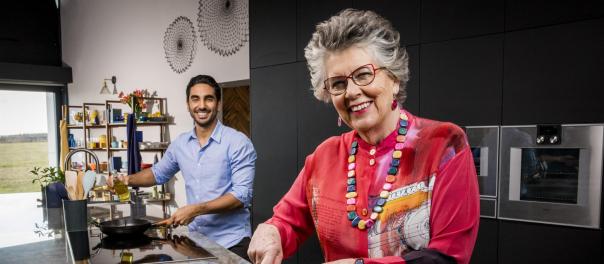 24 May 2021
Prue Leith and Dr Rupy Aujla are aiming to 'transform' the cooking and shopping habits of four British families in Channel 4's Cook Clever, Waste Less TV show.
The four-part series will offer viewers 'inspiration' to shake up their mealtimes and tackle food waste. Each episode champions meal planning as well as tips and tricks to make simple food every day of the week. 
Food waste is a 'growing problem' in the UK where one in eight prepared meals are going in the bin. If Food Waste was a country, it would be the third biggest GHG (Green House Gas) emission source after China and the US.  
Leith said: "I've been a fan of Rupy Aujla, the doctor who believes that food is medicine, for years. So, to do a programme with him, helping people cook from scratch and save money, has been a real pleasure."
Dr Rupy Aujla, an NHS GP working in emergency medicine, who has created The Doctor's Kitchen website and books, was the keynote speaker at Public Sector Catering's Plant-Based Week webinar on 19 May 2021.
On the webinar he discussed the importance of plant-based foods and following his interview there was a panel discussion with a panel of public sector catering experts.
Prue Leith was a keynote speaker at the inaugural Public Sector Catering Expo in 2019. The second edition of the event is scheduled to return on 15-16 March 2022 at NEC Birmingham.
The Public Sector Catering Expo brings together chefs and caterers from across all areas of the public sector. It includes an exhibition of over 100 suppliers with a lively seminar programme and live demonstrations. 
Dr Rupy, added: "I'm super proud to have been part of a show alongside Prue teaching families from all backgrounds the simple steps toward wasting less food, saving money and improving their health.
"We could all do with wasting less, and instead of simply highlighting the problem, I believe that by creating a joyful and exciting programme full of tips and recipes we also motivate and inspire people watching at home.
"It really is possible to waste less, save money, eat better and improve your health!"
Cook Clever, Waste Less airs tonight on Channel 4 at 8:30pm.