Quorn hosts meat-free masterclass for Sodexo chefs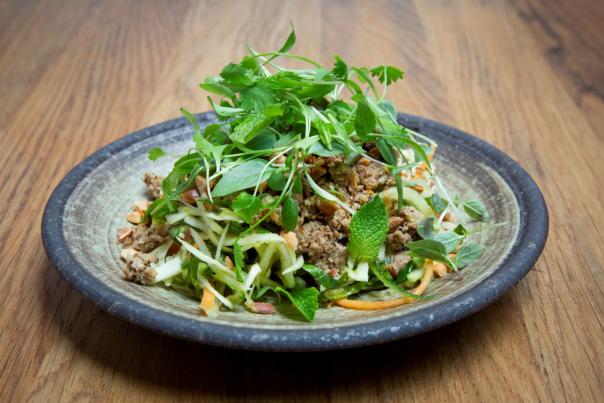 27 Jul 2021
Meat free pioneer Quorn celebrated plant-based foods with a masterclass aimed at Sodexo chefs hosted live from Tredwells in London.
The masterclass was led by Quorn ambassador Chantelle Nicholson who was also joined by Kirk Haworth co-founder of plant-based restaurant Plates. The session focussed on the power of plants and how to prepare, plate and pair plants to impress diners.
Quorn's masterclass was in partnership with Sodexo who are working towards 33% of their menus becoming plant based.
David Mulcahy, food innovation & sustainability director at Sodexo Schools & Universities, said: "Providing innovative, exciting, and delicious plant-based options is key to achieving our one third plant-based menu target, as well as addressing nutritional needs of our guests.
"Our sustainable eating strategy includes the importance of using a diverse selection of plant-based ingredients. We're keen to learn about how versatile Quorn is as an ingredient including its health and sustainability benefits."
The dishes created on the day included:
Quorn en croute with tarragon pesto, pickled horseradish, samphire & rocket.

Salt & pepper Quorn 'beef' sweet n sour barbecued aubergine, sea kelp, pickled kohlrabi & watercress.

Quorn Thai inspired salad.

Quorn & chia protein balls.
Claire Roper, head of marketing & innovation foodservice at Quorn, added: "We're on a mission at Quorn to empower and inspire chefs into more plant-based cooking for the good of the planet and people. What better way to spread the message than a masterclass with two of the UK's leading plant-based chefs."