Rational launches interactive online demonstrations for new iVario Pro range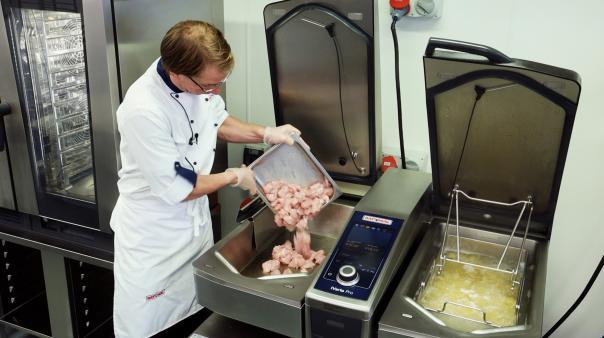 23 Nov 2020
Commercial kitchen equipment manufacturer Rational has developed an online event to show foodservice operators how its multifunctional iVario Pro cooking system offers a 'modern, practical, energy efficient and time-saving solution'.
"We started these 'Live' online events at the beginning of the pandemic," says Adam Knights, marketing director of Rational UK, referring to the initial series focused on the brand's iCombi range.
"They allow us to let customers see and experience the equipment, safely from their own home or business.
"We've invested heavily in them, not only to ensure customers continue to have access to these types of events, even if they are in lockdown, but also because they are proving very popular.
"It's become an even bigger project as we are developing dedicated market sector events to be launched online early next year."
He said the iVario range was available in four different models, with a choice of one or two cooking pans.
"It can be used to boil, pan fry, deep fry, griddle, pressure cook and confit – in one space-saving unit.  That's how, in the Live online sessions, chefs can use the iVario to cook dishes as varied as deep fried fish and chips, beef bourguignon with mash potato, chicken stir fry, and chocolate mousse."
The 'Live' online programme is produced in the UK by Rational chefs and focuses on UK-specific menus and operations. The events look at how the iVario Pro's advanced functions can enhance the kitchen operation.
Each one lasts about 45 minutes, including the Q&A session at the end. They are free to attend and can be booked at: https://rational-online.com.