School meals caterer Chartwells launches YouTube video channel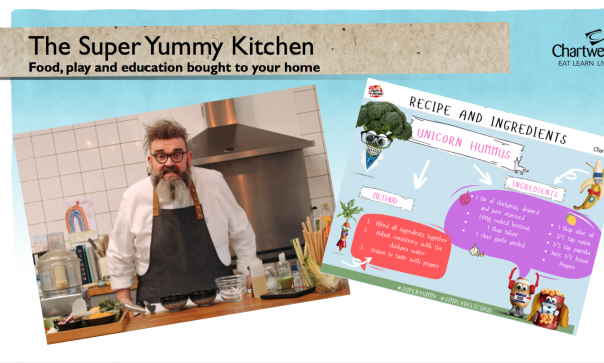 02 Apr 2020
Chartwells, the school catering division of Compass UK & Ireland, has created a YouTube channel broadcasting 'cook along' videos aimed at primary age children and their families.
Called The Super Yummy Kitchen, the content are short, fun-style videos that guide viewers through the easily-understood steps to making healthy snacks from ingredients that could be found in the average cupboard and fridge at home.
Stephen Forster, business development director with Chartwells said: "We are launching our food video channel this week to support schools and children with easy healthy recipes and educational activities.
"This is produced by our director of nutrition Meg Longworth and her team 'in house' and includes Allegra McEvedy in some of the video links.
"While children are being home-schooled these resources can help continue our children's education and contribute to their good health."
The video content has been designed to encourage healthy snacking, support good mental health, help families learn new skills and provide nutrition education and meet a weekly health and wellbeing challenge, he added.
Recipes covered include unicorn hummus, squidgy bean muffins and selfie pizzas.
To access the YouTube channel click on the link: bit.ly/SuperYummyKitchen