School pupils help to launch Leicester Food Plan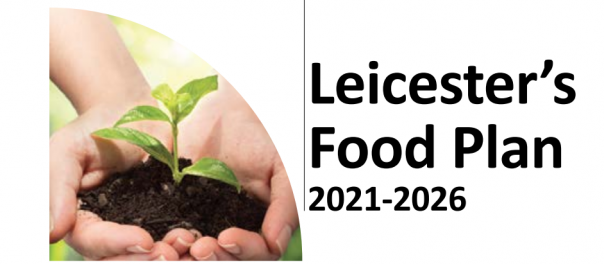 10 Jun 2021
Pupils and staff from Stokes Wood Primary School have been helping to launch Leicester's new Food Plan, a five-year strategy aimed at making Leicester a 'healthy and sustainable food city'.
To celebrate the school hosted a themed lunch with frittata and cheese flan made using locally-sourced Leicestershire eggs.
Stokes Wood Primary School is a Soil Association Food for Life school, which means it takes part in a national awards scheme to help pupils learn more about food provenance, how to grow fresh food and practical cooking skills.
Jane Gadsby, headteacher at Stokes Wood Primary School, said: "We have been developing our Food For Life work since achieving the bronze award in 2016. To achieve the silver award, we needed to ensure our pupils understand the importance of reducing food waste.
"Our favourite part of this has been working with a local farmer and we have been receiving weekly videos from Manor Farm in Burton Overy. Next academic year, children will be visiting in person."
This is the Leicester's second Food Plan and it will run from 2021-2026. Among its ambitions are:
Supporting people to make healthier food choices.

Tackling food poverty.

Helping communities to get access to, and an understanding of, good food.

Working with businesses to develop a responsible food economy, including making good food buying decisions.

Promoting sustainable food choices to help address the climate emergency.
Deputy city mayor Cllr Adam Clarke, who leads on environment, commented: "Leicester's Food Plan is an ambitious long-term programme which began when the first plan was developed in 2014. It aimed to tackle food poverty, see more community food projects in place across the city, support a thriving good food economy and develop new food growing initiatives.
"Schools are a great place to share these messages, because children then take them home to their parents. It's great to see schools like Stokes Wood embracing the Food for Life programme and recognising the importance of healthy and sustainable food in our communities."
To read Leicester's new Food Plan in full, go to: www.leicester.gov.uk/foodplan.