SCOTY 2017 finalists confirmed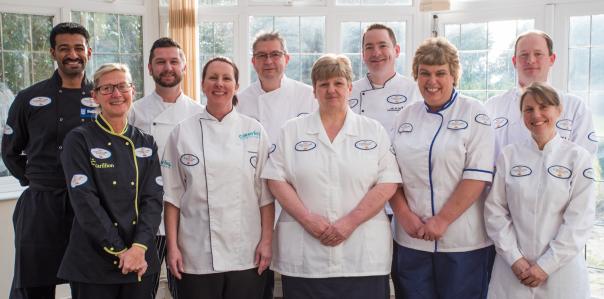 26 Jan 2017
The ten-strong line-up for the final of the School Chef of the Year (SCOTY) 2017 has been confirmed with the completion of the regional finals that took place throughout January.
They will now prepare to do battle in the kitchen in the final at Stratford upon Avon College on March 2nd.
 
Organised by LACA (Lead Association for Catering in Education), SCOTY is sponsored by Maggi from Nestlé Professional, and has whittled down more than 100 original entries to a final ten.
 
African and Asian inspired dishes dominated among the regional winners, with chefs serving up Moroccan meatballs, Lamb kofta, Chana Gosht, Chinese pork and two takes on butter curry.
 
The two who stuck closer to home in their recipes, were North West winner Sue Knight with her chicken, spinach, leek and tomato tart and East of England's Michael Goulston with Hertfordshire chicken and ham pot pie.
 
Five winners used chicken as their protein, two focused on pork, two lamb, while Steve Fowell, the South West region winner, offered a vegetarian dish based on chickpeas called Yummy in Your Tummy Buttery Curry.
 
When it came to dessert, then panna cotta is obviously a clear school meals favourite, with four of the finalists creating their take on the Italian sweet.
 
The exotic tastes of the nation's school children are again reflected in the choice of ingredients, with mango, lime, coconut and passion fruit all making appearances.
 
The competition aims to put to the test the preparation, cooking, creativity and presentation skills of school chefs. With a maximum of £1.30 to spend and just one and a half hours to prepare their dishes, each entrant is required to produce a healthy, balanced two-course meal comprising a main course and dessert that would appeal to 11-year-olds in school.
The finalists are:
South East winner Barry Brewington of Medway UTC, Chatham, Kent (Greenwich Service Solution)
London winner Kathleen Carpenter, Torriano Infants in the London Borough of Camden (Caterlink)
South West winner Steve Fowell, Mendip Green Primary School, Weston-super-Mare (North Somerset Council)
East of England winner Michael Goulston, Peartree Spring Primary School, Stevenage (HCL Ltd)
East Midlands winner Rose Wallace, Deer Park Primary School, Chesterfield (Derbyshire County Council Catering Services)
Wales winner Jonathan Balfour, Ysgol Bro Brynach, Whitland (Carmarthenshire County Council)
West Midlands winner Jose Kochakkadan, Marston Green Infants Academy, Martson Green (Solihull Catering Services)
North West winner Sue Knight, St John's Primary School, Dukinfield (Carillion for Tameside MBC)
North East & Scotland winner Mary Barraclough, Abbey Hill Academy & Sixth Form, Stockton on Tees (Stockton Borough Council)
Yorkshire & Humberside winner Tracy Healy, Ravensthorpe Juniors, Dewsbury, West Yorkshire (Kirklees Council School Meals Catering Service)